Lodden til finalebordet ved EPT Grand Final - €1 224 000 i førstepremie!

PokerNews redaksjonen - Per Arnesen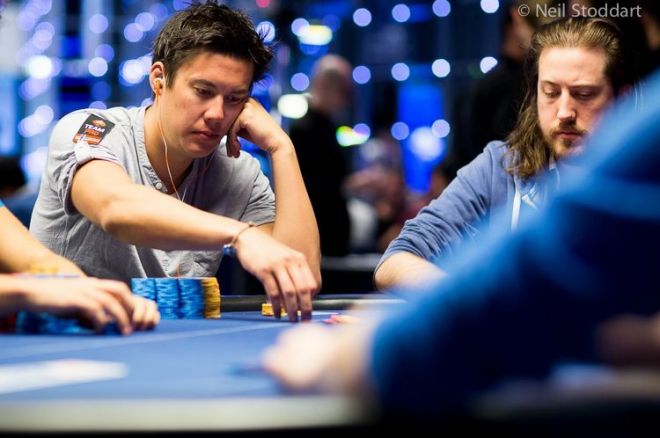 Team Poker Stars proffen Johnny Lodden er klar for finalebordet under EPT Grand Final i Monte-Carlo på søndag. Lodden startet dag 5 som nummer 3 i antall sjetonger og fikk en tøff dag i Monte-Carlo lørdag.
Etter seks timer kunne Loddene endelig juble over en plass ved finalebordet, hvor han kjemper om en førstepremie på €1 224 000. Et finalebord hvor han blant annet møter 3 andre Team Poker Stars proffer; Jake Cody, Daniel Negreanu og Jason Mercier.
Lodden ligger på en femteplass etter dag 5 med 1 402 000, mens sjetongleder Steve O`Dwer fra Irland har 4 452 000. Den første spilleren som ryker ut av finalebordet mottar €103 000 på 8. plass.
EPT Grand Final – Finalebord
| | | | |
| --- | --- | --- | --- |
| Rangering | Spiller | Land | Sjetonger |
| 1 | Steve O'Dwyer | Irland | 4 452 000 |
| 2 | Andrew Pantling | Canada | 4 180 000 |
| 3 | Jake Cody | England | 1 633 000 |
| 4 | Daniel Negreanu | Canada | 1 581 000 |
| 5 | Johnny Lodden | Norge | 1 402 000 |
| 6 | Noah Schwartz | USA | 1 068 000 |
| 7 | Jason Mercier | USA | 824 000 |
| 8 | Grant Levy | Australia | 786 000 |
Gjennomsnitt stack er på 1 991 250
Finalebordet starter søndag klokken 13:00 GMT hvor du kan følge vår Live oppdatering og PokerStarts.TV sin live sending fra EPT Grand Final.
Her er noen av hendene Johnny Lodden spilte lørdag udner EPT Grand Final:
Hentet fra vår live oppdatering seksjon
Hånden under beskriver Lodden som noe av det sjukeste han har sett til Nettavisen . En hånd som gjorde at Lodden er på finalebordet på søndag.
Vasili Firsau raised to 125,000 from the cutoff after which Team PokerStars Pro Johnny Lodden decided to move all in for around 800,000 chips. Steve O'Dwyer, sitting in the big blind, moved all in as well and Firsau called as well.

Firsau:

Lodden:

O'Dwyer:

The flop rolled out and Mercier jumped up out of his chair in excitement. Mercier walked over to the feature table to tell them the good news but it wasn't over yet.

The turn brought the and the river the giving both Lodden and Firsau the same straight.

"Oh my god! Is that real?" Mercier said as he came running back to the table.

"I almost wanted to call you back to the table when you ran away," O'Dwyer said about Mercier celebration preemptively.

"I'm a a percentage guy, when I see 99% I just think that's going to win," Mercier added. According to the PokerNews Odds Calculator O'Dwyer was 98.01% to win this hand.

"I didn't expect that one," Lodden said he already seemed to accept his elimination just shy of the final tables.

"What does Johnny Lodden think now?" Antonio Esfandiari yelled from the rail as Philipp Gruissem also chimed in.

"Lodden hopes," Gruissem said with a smile as the Norwegian pro kept his hopes for the final table alive.

"Damn, that was an easy €30,000 pay jump right there but I want chips going into the final table," Grant Levy sighed as he's still sitting on just nine big blinds.

Everyone at the table besides Lodden and Firsau were extremely disappointed and play carries on with 10 players. We need to lose one more player before everyone moves to the feature table where we will play the final table bubble.
Jason Mercier opened to 40,000 from the hijack seat, John Juanda called out of the small blind, and Johnny Lodden quickly defended from the big blind.

"I price you in?" Juanda asked Lodden, smiling.

The dealer fanned , both blinds checked, and Mercier continued for 51,000. Only Lodden called.

The turn was the , Lodden checked again, and Mercier fired 142,000. Again, Lodden called.

A repeat deuce - the - completed the board, and Lodden checked a third and final time. Mercier pulled out two stacks of blue T5,000 chips, added a few more on top, and slid forward 265,000. Lodden looked like he was in pain.

"This is your fault," Lodden told Juanda, who laughed.

"I had a good hand!" Juanda protested.

Lodden eventually mucked, and Mercier picked up the hand.

"I improved on the river," Mercier told Lodden. "But I didn't have a deuce."
On one of the final hands of the level John Juanda raised to 55,000 from the button and Johnny Lodden three-bet all in for a total of 310,000. Juanda called almost immediately creating another all in showdown.

Juanda:

Lodden:

The board ran out and Lodden doubled up.
EPT9 Grand Final: Main Event Day 5 & High Roller Day 2