Ivey vant £7,8M i Punto Banco med og "lese" feilproduserte kort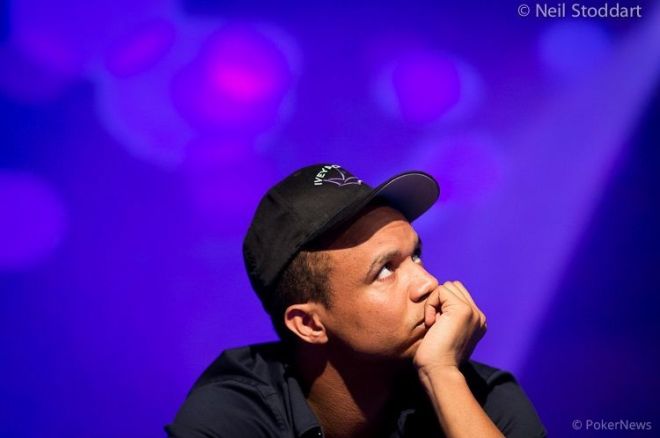 Forrige uke skrev, PokerNews om Phil Ivey som la inn et søksmål mot kasinoet Crockfords , for å holde tilbake en samlet gevinst på £7,8 millioner ($12,1 millioner) han vant ved spill av Punto Banco i august, 2012.
I følge dailymail.co.uk, mener det Genting eide kasinoet at Ivey og hans kvinnelige medfølger "leste" kortene som inneholdt veldig små fabrikasjonsfeil etter en feilkutting av kortene som ble benyttet av kasinoet.
Først meldte den engelske avisen Daily Mail, om Ivey sin store Punto Banco gevinst kom fra spill med £50 000-£150 000 per hånd over to kvelder. Hvor høyeste innsats var oppe i £500 000, Ivey fortsatte å vinne til startet å tape og avsluttet med gevinst på £2,3 milllioner. Kvelde etter var Ivey tilbake og vant nye £5,5 millioner.
Feilen på kortene som ble brukt, gjorde at når kortene ble snudd 180 grader så dem ikke helt like ut, noe som gjorde at spillerne kan bruke et system som kalles "playing the turn."
"By turning an asymmetrical card 180 degrees it is possible to identify what the value of the card is before it is revealed," leading casino surveillance specialist Willy Allison explained in the Daily Mail. "You simply glance at the edges on the back of the card ... Essentially, playing the turn has the same effect as marking the cards and gives players a huge house edge ... Who needs invisible ink and red-tinted sunglasses when you've got manufacturer-made 'marked cards?'"
Her er et bilde fra Daily Mail som viser hvordan spillet kan ha blitt utført: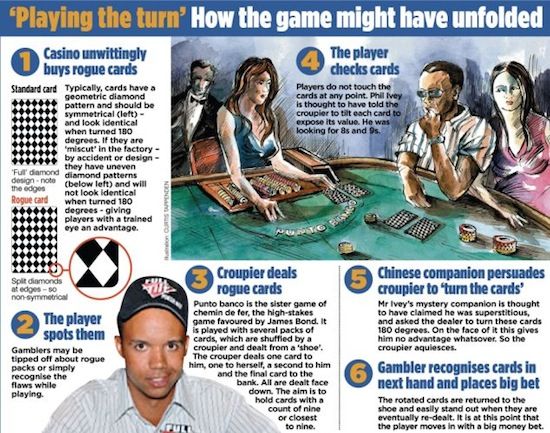 Forrige uke kom Ivey med en uttalse gjennom Archerfield Partners and Richard Spearman QC, om sitt søksmål:
"I am deeply saddened that Crockfords has left me no alternative but to proceed with legal action, following its decision to withhold my winnings. I have much respect for Gentings, which has made this a very difficult decision for me.

"Over the years I have won and lost substantial sums at Crockfords and I have always honoured my commitments. At the time, I was given a receipt for my winnings but Crockfords subsequently withheld payment. I, therefore, feel I have no alternative but to take legal action."

The 184-year-old casino, which has returned Ivey's initial £1 million stake, have said that they "shall be defending [Ivey's claim] vigorously."
PokerNews følger denne saken videre.