Turbo Championship Of Online Poker er startet hos PokerStars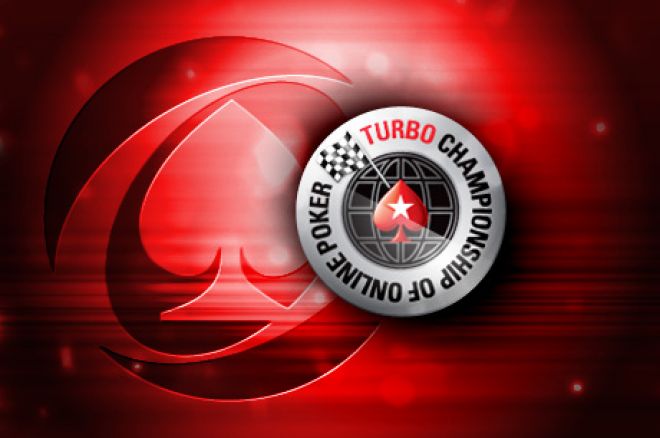 Nå er det bare å sette av de neste dagene til online poker i høy fart hos PokerStars. I går torsdag startet årets utgave Turbo Championship Of Online Poker (TCOOP) hos PokerStars.
Som navnet tilsier er TCOOP en online pokerfestival hvor hver av de 50 øvelsene blir enten spilt med turbo eller hyper-turbo blindestruktur! Er du en av mange action junkies eller liker tanken på å gjøre om et innkjøp på $55 til $69 000 i løpet av fire timer, da er TCOOP noe for deg.
Her er dagens øvelser ved TCOOP
| | | | | | |
| --- | --- | --- | --- | --- | --- |
| Event# | Innkjøp | Øvelse | Dato | Klokken ET +6t | Garantert |
| 5 | $27 | TCOOP-05: $27 NL Draw, $50K Gtd | 18. januar 2013 | 08:00 | $50,000* |
| 6 | $55 | TCOOP-06: $55 NL Hold'em [6-Max, Shootout, No Late Registration], $100K Gtd | 18. januar 2013 | 10:00 | $100,000* |
| 7 | $27 | TCOOP-07: $27+R NL Hold'em, $400K Gtd | 18. januar 2013 | 12:00 | $400,000* |
| 8 | $82 | TCOOP-08: $82 NL Hold'em [Big Antes,2x Chance], $300K Gtd | 18. januar 2013 | 14:00 | $300,000* |
Her er resten av TCOOP programmet
| | | | | | |
| --- | --- | --- | --- | --- | --- |
| Event# | Innkjøp | Øvelse | Dato | Klokken ET +6t | Garantert |
| 9 | $82 | TCOOP-09: $82 PL Omaha [Knockout], $200K Gtd | 19. januar 2013 | 10:00 | $200,000* |
| 10 | $11 | TCOOP-10: $11+R NL Hold'em [3x-Turbo], $400K Gtd | 19. januar 2013 | 12:00 | $400,000* |
| 11 | $109 | TCOOP-11: $109 NL Hold'em [Heads-Up, No Late Registration], $200K Gtd | 19. januar 2013 | 14:00 | $200,000* |
| 12 | $27 | TCOOP-12: $27 Triple Stud, $25K Gtd | 19. januar 2013 | 16:00 | $25,000* |
| 13 | $33 | TCOOP-13: $33 Saturday Speedway, $150K Gtd | 19. januar 2013 | 19:00 | $150,000* |
| 14 | $82 | TCOOP-14: $82 NL Omaha Hi/Lo [6-Max,2R1A], $150K Gtd | 20. januar 2013 | 08:30 | $150,000* |
| 15 | $82 | TCOOP-15: $82 NL Hold'em [6-Max, Hyper-Turbo], $300K Gtd | 20. januar 2013 | 11:30 | $300,000* |
| 16 | $320 | TCOOP-16: $320 NL Hold'em [Knockout], $600K Gtd | 20. januar 2013 | 12:30 | $600,000* |
| 17 | $109 | TCOOP-17: $109 NL Hold'em [1R1A], $400K Gtd | 20. januar 2013 | 13:30 | $400,000* |
| 18 | $27 | TCOOP-18: $27+R PL Omaha [6-Max,2x-Turbo], $300K Gtd | 20. januar 2013 | 15:30 | $300,000* |
| 19 | $215 | TCOOP-19: $215 Sunday Supersonic - TCOOP Special [Hyper-Turbo], $400K Gtd | 20. januar 2020 | 18:30 | $400,000* |
| 20 | $82 | TCOOP-20: $82 PL Omaha [6-Max,1R1A], $125K Gtd | 21. januar 2013 | 08:00 | $125,000* |
| 21 | $27 | TCOOP-21: $27 NL Hold'em [4-Max], $75K Gtd | 21. januar 2013 | 10:00 | $75,000* |
| 22 | $82 | TCOOP-22: $82 FL Omaha Hi/Lo, $50K Gtd | 21. januar 2013 | 12:00 | $50,000* |
| 23 | $215 | TCOOP-23: $215 NL Hold'em [6-Max, Hyper-Turbo], $400K Gtd | 21. januar 2013 | 14:00 | $400,000* |
| 24 | $109 | TCOOP-24: $109 PL Omaha Hi/Lo [6-Max], $75K Gtd | 22. januar 2013 | 12:00 | $75,000* |
| 25 | $215 | TCOOP-25: $215 NL Hold'em, $500K Gtd | 22. januar 2013 | 14:00 | $500,000* |
| 26 | $27 | TCOOP-26: $27 Stud, $50K Gtd | 22. januar 2013 | 16:00 | $50,000* |
| 27 | $27 | TCOOP-27: $27+R NL Hold'em [2x-Turbo], $400K Gtd | 22. januar 2013 | 18:00 | $400,000* |
| 28 | $82 | TCOOP-28: $82 NL Hold'em [2x Chance], $200K Gtd | 23. januar 2013 | 08:00 | $200,000* |
| 29 | $215 | TCOOP-29: $215 NL Hold'em [10-Max, Shootout, Super-Knockout, Super-Knockout, No Late Registration], $75K Gtd | 23. januar 2013 | 10:00 | $75,000* |
| 30 | $11 | TCOOP-30: $11+R PL Omaha [6-Max,3x-Turbo], $200K Gtd | 23. januar 2013 | 12:00 | $200,000* |
| 31 | $27 | TCOOP-31: $27 Stud Hi/Lo, $50K Gtd | 23. januar 2013 | 14:00 | $50,000* |
| 32 | $7 | TCOOP-32: $7.50+R NL Hold'em [3x-Turbo], $400K Gtd | 24. januar 2013 | 12:00 | $400,000* |
| 33 | $27 | TCOOP-33: $27 Razz, $25K Gtd | 24. januar 2013 | 14:00 | $25,000* |
| 34 | $215 | TCOOP-34: $215 NL Hold'em [2x Chance], $400K Gtd | 24. januar 2013 | 16:00 | $400,000* |
| 35 | $82 | TCOOP-35: $82 PL Omaha [4-Max], $125K Gtd | 24. januar 2013 | 18:00 | $125,000* |
| 36 | $82 | TCOOP-36: $82 NL Hold'em [6-Max], $150K Gtd | 25. januar 2013 | 08:00 | $150,000* |
| 37 | $27 | TCOOP-37: $27 PL Omaha [6-Max,2R1A], $50K Gtd | 25. januar 2013 | 10:00 | $50,000* |
| 38 | $215 | TCOOP-38: $215 NL Hold'em [Ante Up], $500K Gtd | 25. januar 2013 | 12:00 | $500,000* |
| 39 | $82 | TCOOP-39: $82 FL Hold'em [6-Max], $50K Gtd | 25. januar 2013 | 14:00 | $50,000* |
| 40 | $215 | TCOOP-40: $215 HORSE, $100K Gtd | 26. januar 2013 | 10:00 | $100,000* |
| 41 | $215 | TCOOP-41: $215 PL Omaha [Heads-Up, Super-Knockout, No Late Registration], $75K Gtd | 26. januar 2013 | 12:00 | $75,000* |
| 42 | $27 | TCOOP-42: $27+R NL Hold'em [2x-Turbo], $300K Gtd | 26. januar 2013 | 14:00 | $300,000* |
| 43 | $109 | TCOOP-43: $109 NL Omaha Hi/Lo [6-Max, Hyper-Turbo], $75K Gtd | 26. januar 2013 | 16:00 | $75,000* |
| 44 | $33 | TCOOP-44: $33 Saturday Speedway - TCOOP Special, $150K Gtd | 26. januar 2013 | 19:00 | $150,000* |
| 45 | $109 | TCOOP-45: $109 NL Hold'em, $125K Gtd | 27. januar 2013 | 06:00 | $125,000* |
| 46 | $215 | TCOOP-46: $215 Sunday Warm-Up TCOOP Special, $750K Gtd | 27. januar 2013 | 11:00 | $750,000* |
| 47 | $2,100 | TCOOP-47: $2,100 NL Hold'em [High Roller], $1M Gtd | 27. januar 2013 | 12:00 | $1,000,000* |
| 48 | $320 | TCOOP-48: $320 8-Game, $100K Gtd | 27. januar 2013 | 13:30 | $100,000* |
| 49 | $700 | TCOOP-49: $700 NL Hold'em Main Event, $2M Gtd, $300K+ to 1st Place! | 27. januar 2013 | 15:30 | $2,000,000* |
| 50 | $215 | TCOOP-50: $215 Sunday Supersonic - TCOOP Wrap Party [Hyper-Turbo], $500K Gtd | 27. januar 2013 | 18:30 | $500,000* |