Programmet for PokerStars Turbo Championship of Online Poker 2013 er klart

PokerNews redaksjonen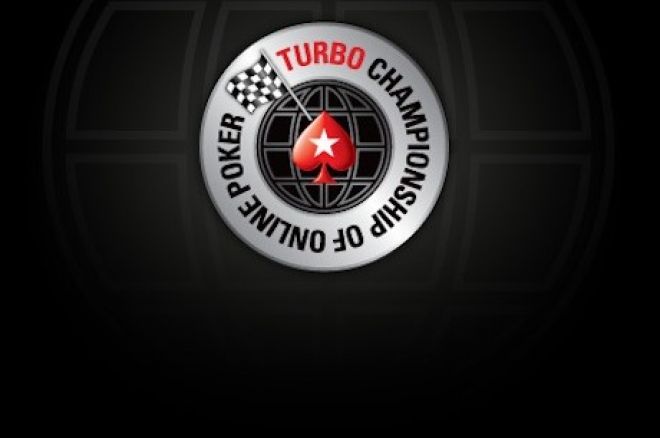 Programmet for den andre PokerStars Turbo Championship of Online Poker (TCOOP) ble lagt ut på tirsdag. Serien starter 17. januar og var i 11 dager fram til 27. januar, 2013. Den totale premiepotten er $5 000 000 mer enn den første serien i 2012 - $15 000 000 fordelt på 50 turneringer. TCOOP ble lansert i januar 2012 som et alternative til PokerStars sine to andre online serier, World Championship of Online Poker (WCOOP) og Spring Championship of Online Poker (SCOOP).
TCOOP vil inneholde 50 turneringer som er spredt ut over 11 dager med innkjøp fra $7,50 og hel opp til $2 100 High Roller eventen. Main Event spilles den 27. januar med et innkjøp på $700 og en garantert premiepott på $2 millioner hvor vinneren mottar minimum $300 000. Vinneren av 2013 TCOOP Player of the Series mottar en 2014 PokerStars Caribbean Adventure pokerpakke.
"TCOOP is a great series that offers something for everyone – regardless of the game or buy-in you're looking for – all in a fast-paced format," said Team PokerStars Online's Mickey "mement_mori" Petersen. "Turbos are great because they combine just the right mix of skill and calculated gambling, and you can win a title in just a few hours! I'm especially looking forward to the Main Event and the High Roller on the final Sunday."
Serien vil inneholde et variert spekter av spilleformater som no-limit hold'em, pot limit Omaha, no limit Omaha hi/lo, no-limit draw, triple stud, HORSE, 8-game, razz og flere. Mange tunreringer blir spilt med følgene formater; knockouts, hyper-turbos, shootouts, heads-up, four-max, six-max, big antes, 2x chance og rebuys.
Satellitter hos PokerStars til TCOOP pågår nå, kvalifiser deg i dag
Programmet for PokerStars Turbo Championship of Online Poker
| | | | | | |
| --- | --- | --- | --- | --- | --- |
| Dato | Klokken | Øvelse # | Format | Innkjøp | |
| 17.Jan | 12:00 | 01 | NL Hold'em (6.Max) | $27.00 | |
| 17.Jan | 14:00 | 02 | NL Omaha Hi/Lo | $55.00 | |
| 17.Jan | 16:00 | 03 | NL Hold'em (Knockout) | $215.00 | |
| 17.Jan | 18:00 | 04 | NL Hold'em | $55.00 | |
| 18.Jan | 8:00 | 05 | NL Draw (was PL Draw) | $27.00 | |
| 18.Jan | 10:00 | 06 | NL Hold'em (6.Max, Shootout) | $55.00 | |
| 18.Jan | 12:00 | 07 | NL Hold'em (Rebuys) | $27.00 | |
| 18.Jan | 14:00 | 08 | NL Hold'em (Big Antes, 2x Chance) | $82.00 | |
| 19.Jan | 10:00 | 09 | PL Omaha (Knockout) | $82.00 | |
| 19.Jan | 12:00 | 10 | NL Hold'em (Rebuys, 3x.Turbo) | $11.00 | |
| 19.Jan | 14:00 | 11 | NL Hold'em (Heads.Up) | $109.00 | |
| 19.Jan | 16:00 | 12 | Triple Stud | $27.00 | |
| 19.Jan | 19:00 | 13 | Saturday Speedway . TCOOP Special | $33.00 | |
| 20.Jan | 8:30 | 14 | NL Omaha Hi/Lo (6.Max, 2R1A) | $82.00 | |
| 20.Jan | 11:30 | 15 | NL Hold'em (6.Max, Hyper.Turbo) | $82.00 | |
| 20.Jan | 12:30 | 16 | NL Hold'em (Knockout) | $241.00 | $320.00 |
| 20.Jan | 13:30 | 17 | NL Hold'em (1R1A) | $109.00 | |
| 20.Jan | 15:30 | 18 | PL Omaha (6.Max, Rebuys, 2x.Turbo) | $27.00 | |
| 20.Jan | 18:30 | 19 | Sunday Supersonic . TCOOP Special (Hyper.Turbo) | $215.00 | |
| 21.Jan | 8:00 | 20 | PL Omaha (6.Max, 1R1A) | $82.00 | |
| 21.Jan | 10:00 | 21 | NL Hold'em (4.Max) | $24.60 | 27.00 |
| 21.Jan | 12:00 | 22 | FL Omaha Hi/Lo | $82.00 | |
| 21.Jan | 14:00 | 23 | NL Hold'em (6.Max, Hyper.Turbo) | $215.00 | |
| 22.Jan | 12:00 | 24 | PL Omaha Hi/Lo (6.Max) | $109.00 | |
| 22.Jan | 14:00 | 25 | NL Hold'em | $200.00 | $215.00 |
| 22.Jan | 16:00 | 26 | Stud | $27.00 | |
| 22.Jan | 18:00 | 27 | NL Hold'em (Rebuys, 2x.Turbo) | $27.00 | |
| 23.Jan | 8:00 | 28 | NL Hold'em (2x Chance) | $82.00 | |
| 23.Jan | 10:00 | 29 | NL Hold'em (Shootout, Super.Knockout) | $215.00 | |
| 23.Jan | 12:00 | 30 | PL Omaha (6.Max, Rebuys, 3x.Turbo) | $11.00 | |
| 23.Jan | 14:00 | 31 | Stud Hi/Lo | $27.00 | |
| 24.Jan | 12:00 | 32 | NL Hold'em (Rebuys, 3x.Turbo) | $7.50 | |
| 24.Jan | 14:00 | 33 | Razz | $27.00 | |
| 24.Jan | 16:00 | 34 | NL Hold'em (2x Chance) | $215.00 | |
| 24.Jan | 18:00 | 35 | PL Omaha (4.Max) | $82.00 | |
| 25.Jan | 8:00 | 36 | NL Hold'em (6.Max) | $82.00 | |
| 25.Jan | 10:00 | 37 | PL Omaha (6.Max, 2R1A) | $27.00 | |
| 25.Jan | 12:00 | 38 | NL Hold'em (Ante Up) | $215.00 | |
| 25.Jan | 14:00 | 39 | FL Hold'em (6.Max) | $82.00 | |
| 26.Jan | 10:00 | 40 | HORSE | $215.00 | |
| 26.Jan | 12:00 | 41 | PL Omaha (Heads.Up, Super.Knockout) | $215.00 | |
| 26.Jan | 14:00 | 42 | NL Hold'em (Rebuys, 2x.Turbo) | $27.00 | |
| 26.Jan | 16:00 | 43 | NL Omaha Hi/Lo (6.Max, Hyper.Turbo) | $109.00 | |
| 26.Jan | 19:00 | 44 | Saturday Speedway . TCOOP Special | $33.00 | |
| 27.Jan | 6:00 | 45 | NL Hold'em | $109.00 | |
| 27.Jan | 11:00 | 46 | NL Hold'em (replaces Sunday Warm.Up) | $215.00 | |
| 27.Jan | 12:00 | 47 | NL Hold'em (High Roller) | $2,100.00 | |
| 27.Jan | 13:30 | 48 | 8.Game | $300.00 | $320.00 |
| 27.Jan | 15:30 | 49 | NL Hold'em Main Event | $700.00 | |
| 27.Jan | 18:30 | 50 | Sunday Supersonic . TCOOP Wrap Party (Hyper.Turbo) | $215.00 | |