Tom "durrrr" Dwan og Viktor "Isildur1" Blom signerer med Full Tilt Poker

Rich Ryan - oversatt av PokerNews redaksjonen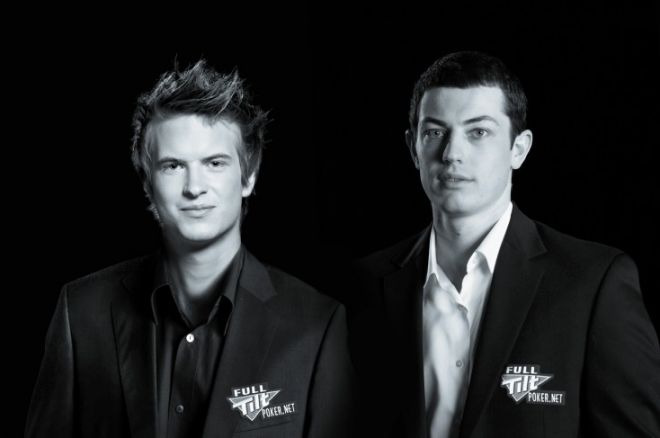 Mandag annonserte Full Tilt Poker at Tom "durrrr" Dwan og Viktor "Isildur1" Blom har blitt deres nyeste medlemmer av Full Tilt Poker ambassadører som vil bli bedre kjent som "The Professionals." fra før har Gus Hansen sagt ja til å fortsette sitt samarbeid med Full Tilt Poker. Pressemeldingen forteller at Dwan og Blom vil bli "reignite a fierce competition at the highest stakes tables on the Full Tilt Poker site."
Sarne Lightman, som er markedssjef hos Full Tilt Poker legger til:
"Tom is one of the most feared and respected players in the world today. His exploits at the Full Tilt Poker tables generated a huge following in the poker community and we are thrilled to bring that action back for our players."
Dwan sier at han er spent på re-lanseringen av Full Tilt poker og tror at det vil gjøre godt for pokeren og er kjempefornøyd med å kunne være en del av dette.
Blom som avsluttet sin avtale med PokerStars i august kommenterte følgene:
"I always loved playing on the Full Tilt Poker software, it is where I made my name and enjoyed some of my greatest victories. When they approached me about joining the team I knew this was the right fit for me."
Dwan og Blom er begge store stjerner innen high-stakes poker miljøet. I 2009 når Isildur1 først ble kjent, kjempet han og Dwan mange timer og spilte om veldig store beløp ved de høyeste bordene hos Full Tilt Poker. HighStakesdb.com har estimert at Dwan er opp hele $2 402 039, men Blom har et tap på $2 630 230 ved Full Tilt Poker.
Nå starter rivaliseringen igjen og representanten for Full Tilt Poker kan ikke bli mer fornøyd.
"The game of poker is always evolving," Lightman continues. "Through our continual innovations, Full Tilt Poker is proud to have been at the forefront of that evolution. In choosing our Pros we approached the three poker players whose unique and innovative styles have had the most impact on how modern poker is played."