2012 WSOP October Nine: Jake Balsiger har leid inn Mike McDonald som trener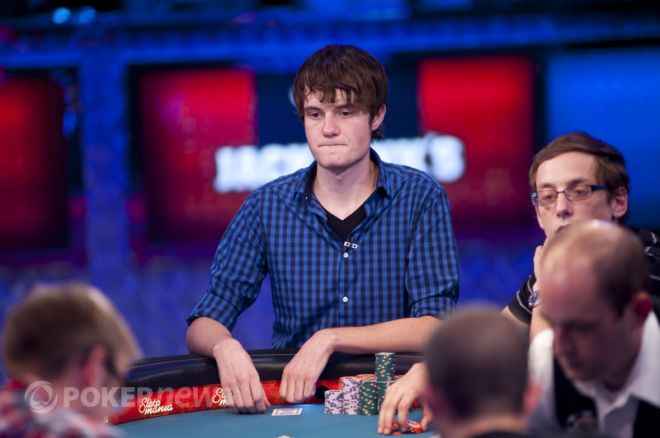 Fram til finalebordet ved World Series of Poker starter 29. oktober starter vil PokerNews.com legge ut en presentasjon med intervju av alle 9 finalister – October Niners. I dag er det Jacob Balsiger som først ut.
22. januar fylte Jacob Balsiger 21 år og kunne dermed delta i World Series of Poker. I Mai måned kunne studenten ved Arizona State University pakke kofferten og sette kursen mot Las Vegas og sitt første WSOP. Balsinger startet WSOP med en 100. plass ved Øvelse #2: $1 500 No-Limit Hold'em for $3 531, men det var ikke før Main Event han virkelig gjorde det stort.
Balsinger er født i Portland, Oregon, gjorde det utenkelige og spilte seg helt fram til finalebordet I sin aller første Main Event. Han er garantert en premie på $754 798og har muligheten til å vinne sitt det gjeveste armbåndet og en førstepremie på $8 527 982. Med sin 21 år har han muligheten til ble den yngste WSOP Main Event vinneren siden Joe Cada vant I 2009.
Det blir ikke enkelt for den tidligere online spilleren som ligger som nummer 8 i antall chips med 13 115 000, men med lave blinde har han muligheten til å spille sitt spill. PokerNews snakket med Balsiger om hvordan han forbereder seg til sitt livs finalebord og mer.
Intervjuet er på engelsk
What have you been up to since July when you made the October Nine?
I went back to ASU, my senior year there for political science. So I've been going to class, other than that playing poker in my spare time. I will graduate in May, one year left. I was thinking about not going back but I decided to get it out of the way.
This was your first eligible year to play the WSOP. How did you come to play the Main Event?
I wasn't even going to play it. I was just going to play the $1,000 and $1,500 events, and I was going to go home a few days before the Main, but then my friends, who were having a party at their place, said that they'd buy a bunch of action, so I sold like 80 percent, and then I just played and it went well. I had already packed all of my stuff into my car actually.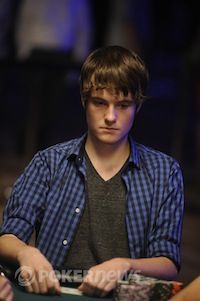 What has been the reaction of your family and friends in regard to you making the October Nine?
They've all been super excited, they always want to talk about it, especially that first month. Even now some people talk to me pretty much every day about it. It's kind of embarrassing seeing yourself on TV. I'll be bringing a bunch of people from ASU out for the final table, my roommates, and my friends, pretty much everybody.
You have a chance to pass Joe Cada as the youngest winner of the Main Event. Does having that record mean anything to you?
I actually think it's one of the most exciting parts for me. If I was 22, I don't think I'd be quite as concerned with winning, I think I'd be happy with second, but for me that would make a win even more important and even more exciting.
Speaking of second place and considering you're starting eighth in chips, would you lock up second-place money right now if it meant you'd have to give up your shot at the bracelet?
Oh yeah, definitely, not even a question [laughs].
You're coming in as the second shortest stack. Are you concerned about that?
I'm not too worried right now. I still have over 40 big blinds, and online that's pretty deep, so I don't see myself as too much of a short stack. My seat is a little stressful. I've got some people who've been aggressive toward me on my left, so I'm just going to have to see how they play and adjust to it.
We understand you played a bit online before turning 21. How much were you affected by Black Friday?
I had like $1,100 on Full Tilt, nothing too big.
You've already locked up $748,000 in the Main Event and have a shot at many more millions. What do those amounts of money mean to you?
That is retirement money as far as I'm concerned. If I get first it'll probably be a long time before I consider getting a job.
Does that mean you intend to turn pro?
Yeah, that's my intention now. It's a lot of fun, a lot more fun than having a job. Once I graduate I'll really figure out what I want to do.
You've been sporting an 888poker patch for awhile. How did you get hooked up with them?
An agent contacted me and then spoke with 888, which sounded really good to me. It let me come to Europe to play some tournaments, I was really happy about that, and it's been going really well.
Do you have any big purchases planned with your winnings?
No, not really. I'm not a big spender. I still have my old car, but I need to replace the window. A window broke last week, so I'll probably get a window for my car.
Hiring a coach to prepare for the final table is a popular option. Is it one you've taken advantage of?
Yes, I got Mike "Timex" McDonald as a coach. We haven't done a lot of work yet, but we're going to start doing more and more sessions throughout October.
PokerNews vil blogge fra October Nine finalebordet som du kan følge i vår Live Reporting Seksjon.