2012 World Series of Poker Main Event - Sosiale medier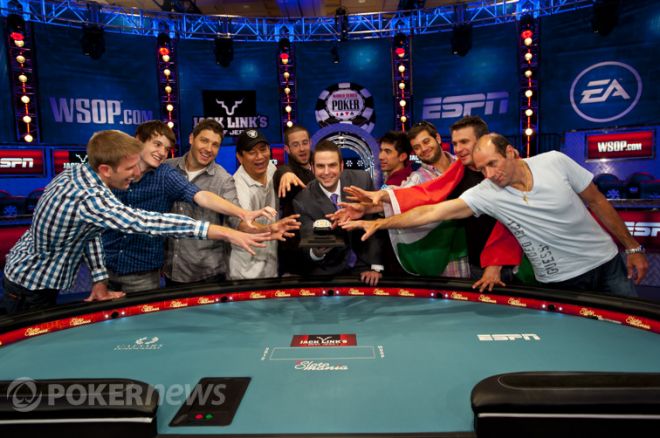 Det som startet med et felt på 6 598 spillere er nå blitt til ni spillere. Finalebordet ved World Series of Poker Main Event er endelig i gang. Finalebordet startet tirsdag 29. oktober klokken 24:00 GMT og de gjenværende spillerne kjemper om en førstepremie på $8 500 000 og WSOP gullarmbåndet.
Det er mange steder på nettet hvor man finner dekninger av finalebordet og selvsagt finner man den også hos PokerNews – ESPN og ScribbleLive chat – Men man kan også følge spillerne gjennom sosiale medier. Bli venn med dem og «liker» dem.
Her er en liten guide over spillerne, WSOP ansatte og Team PokerNews mens man er i gang med å følge Finalebordet ved WSOP Main Event.
2012 World Series of Poker October Niners
Russell Thomas
Twitter: @RunGoodRussell
Russell's Facebook Fan Page
Jacob Balsiger
Twitter: @JakeBalsiger888
Jeremy Ausmus
Twitter: @jeremyausmus
Jeremy's Official Site
Jeremy's Facebook Fan Page
Steven Gee
Twitter: @stevewgee
Steven's Facebook Fan Page
Greg Merson
Twitter: @Gregy20723
Greg's Official Site
Greg's Facebook Fan Page
Jesse Sylvia
Twitter: @Jesse_Sylvia888
Jesse's Facebook Fan Page
Robert Salaburu
Twitter: @RobSalaburu
Robert's Official Site
Andras Koroknai
Twitter: N/A
Michael Esposito
Twitter: N/A
World Series of Poker Staff
Twitter: @WSOP
WSOP Facebook Fan Page
Jack Effel
Twitter: @WSOPTD
Seth Palansky
Twitter: @SethPalansky
Jessica Welman
Twitter: @jesswelman
PokerNews Live Reporting Staff
Donnie Peters: @Donnie_Peters
Rich Ryan: @RichTRyan
Mickey Doft: @mrdoft
Kristy Arnett: @KristyArnett
Sarah Grant: @SarahGrantPoker
Brett Collson: @brettcollson
Chad Holloway: @ChadAHolloway
Joe Giron: @JoeGironPhoto
Elaine Chaivarlis: @LaneyLV
Matthew Parvis: @MatthewParvis
PokerNews Live Reporting: @PokerNews_Live
PokerNews: @PokerNews
PokerNews Team: PokerNews List