Winstar World Casino's 2012 River Poker Series Main Event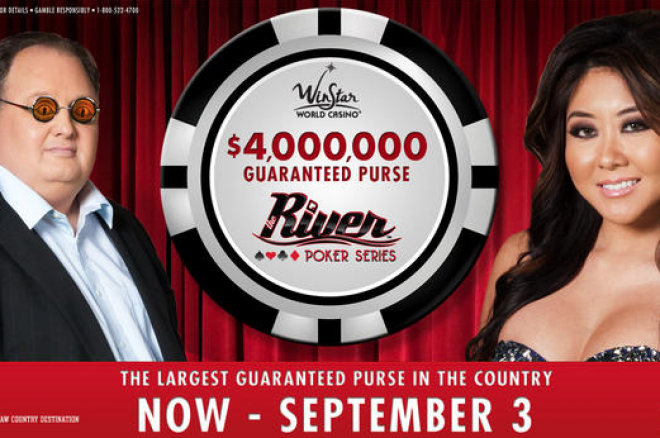 Er du så heldig å være i Thackerville, Oklahoma USA denne uken da kan du få med deg en pokerturnering ved WinStar World Casino. Main Event turneringen koster $2 100 og har $2 500 000 i garantert premiepott og er en del av den årlige River Poker Series. Denne serien har lenge vært en av de største turneringer i midt vesten i USA og for første gang vil PokerNews kjøre live oppdateringer fra start til slutt ved turneringen som var i fem dager!
River Poker Series Main Event starter torsdag 30. august og avsluttes med Main Event finalebord mandag 3. September. Det vil bli avholdt tre dag 1 dager, og dag 2 starter søndag 2. september. Finalebordet spilles 3. september ved WinStar World Casino Global Events Center.
Turneringen har de siste to årene et gjennomsnitt på 1 400 deltagere. I fjor vant Bronson Tucker foran 1 355 spillere og fikk med seg $640 400 I premiepenger. Main Event genererte en premiepott på $2 710 000 hvor de 10 spillerne ved finalebordet var sikret en premie på minimum $50 000. Siden juni har det blitt spilt satellitter til Main Event og WinStar World Casino sin Poker Room Manager Jay Wiles fortalte til PokerNews at han forventer langt flere deltagere siden de har endret innkjøpsreglene fra i fjor, i år kan spillere kjøpe seg direkte inn eller via flere satellitter ved kasinoet.
"Using lammers enables players to gain entry into events like mega satellite qualifiers, preliminary events as well as the main event in a more convenient manner," said Wiles. "It also offers players more options for entries and enhances our staff's ability to operate the tournament. The implementation of this new system shows we are dedicated to the overall satisfaction of our poker players and strive to hold our place as the region's best poker venue."
Pokerspillerne Maria Ho og Greg Raymer er offisielle frontpersoner ved River Poker Series. Ho og Raymer har deltatt ved serien sine turneringer fram mot Main Event og er klare for Main Event.
"I am ecstatic to be back representing WinStar World Casino," Ho told PokerNews earlier this year. "Jay Wiles and the entire team at WinStar go out of their way to create a personal experience and a genuine relationship with their players, and that's just one of the reasons I'm so proud to represent them."

Du kan følge Main Event ved vår PokerNews Live Reporting side denne uken for live oppdateringene fra River Poker Series Main Event!