Vant $10 000 000 Big one for One Drop, ble overfalt under feringen

Theodor Jensen
Sam Trickett som ble nummer to ved Big one for One Drop på tirsdag og $10 000 000 rikere, fikk seg en skikkelig feiring, eller en uheldig avslutning på feiringen. Han etterpå fest ble brutalt satt en stopper for da han og hans kjæreste Natasha Sandhu bel overfalt utenfor en nattklubb i Las Vegas.
Trickett tvitret like etter at han vant $10 000 000 at han skulle feste til sin indre organer nesten sviktet. Noen timer senere ble Trickett overfalt av seks ukjente menn som gav han en real omgang med juling ved nattklubben Sandhu. Trickett ble etterlatt med flere merker i ansiktet og en hoven nese.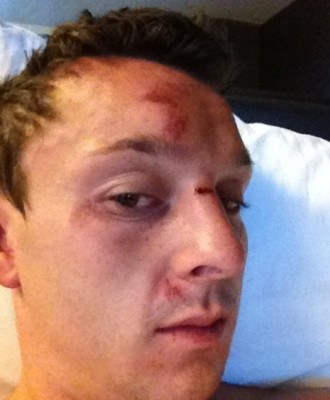 Is this what happens if ur successful? literally beat the sh** out of me and spat in @NatashaSandhu face all over nothing...

— Sam Trickett (@Samtrickett1)
Sandhu, Tickett's sin kjæreste gjennom flere år la også ut info på sin Twitter hvor hun takket sine følgere for deres støtte.
Ok so I can say now...last night didn't end so good, left the club and 6 guys jumped sam....I have tweeted a picture...

— Natasha Sandhu (@NatashaSandhu)
Thanks everyone for your kind messages,very appreciated!were having a cosy night in now just got into bed and put a film on :)

— Natasha Sandhu (@NatashaSandhu)
Hvis du ikke har installert denne Appen enda til din iPad eller mobiltelefon kan du laste ned vår PokerNewsMobile Application hos iTunes eller Google Play store og start jakten etter dette eksklusive passord!