WowWee lanserer BluffCam, ny Iphone app som leser din hjertefrekvens

Theodor Jensen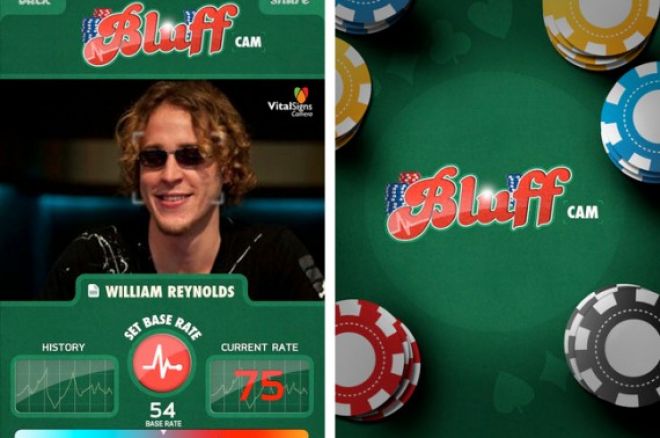 Er du dårlig på å lese dine motstanders pokeransikt? Ønsker du kunne plukke opp bedre tegn? Problemer med å skjule din begeistring når hjertet ditt slår raskere ved en bløff? Hvis ja, da finnes det en app for akkurat dette. WowWee har nylig lansert BluffCam, en poker app til $0,99 $0.99 poker app som leser dine hjerteslag gjennom din iPhone 4 og 4S, 4. generasjon iPod Touch og iPad 2.
Stedet for selskaper til å introdusere sine nye oppfinnelser og produkter innen pokerindustrien er World Series of Poker. Fra "hole cams" til "live streaming" og kleskolleksjoner til solbriller og WSOP har sett alt. Nå som verden er blitt digitalisert er det på sin plass at WowWee Inc. som også var med på å lage AppGear rage og plattformer som echoer.com har valgt WSOP 2012 til å lansere BluffCam. Det er en poker applikasjon som lærer deg å kontrollere dine "hjerteslag og holde det perfekte pokeransiktet".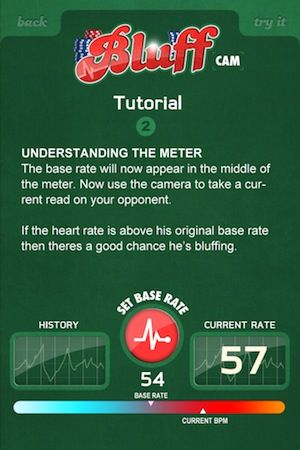 Ved bruk av VitalSigns Camera teknologi, brukerBluffCam kamera til din mobil/iPad til å overvåke de aller minste bevegelsene i ditt ansikt, ved bruk av avansert algorithms og ekspertise innen optisk, video og signal prosesser som regner ut din hjertefrekvens. VitalSigns Camera selger teknologien som du kanskje har benyttet deg av når du har fått lest av din hjertefrekvens hos din lege, men det kan komme deg til gode når du prøver å holde ditt pokeransikt i en viktig pokerpott.
"We were presented with this technology that could figure out your heart rate, literally to a 'T' by simply looking at the camera on the iPhone," sier Sydney Wiseman, Creative Director of BluffCam. "So we sat down and thought about what else this could be used for. Lie detectors and bluff detectors immediately came to mind."
Hun forteller videre: "Through good friends of mine, I was able to meet with Will Molson, William Reynolds, and Tom Marchese. We were talking and Reynolds agreed that 'This is so fun for poker.' So the idea of measuring your heart rate, or how your body acts based on the hands you have, came about. We started playing around with the idea and we figured there were two things we could do. We could create a self test, which could be a tool on how to manage your own heart rate, or we could build this as something you can use to measure your opponents' heart rates from across the table and literally play BluffCam poker."
"We ended up going with both ideas but in two separate apps, both with in-app purchase options for the other," Wiseman continued. "Right now only BluffCam, the self test, is available. In about a week or week and a half, we'll have the second app will be available."
Den andre appen som Wiseman nevner er BluffCam: "Table Edition," som vil la deg måle og registrere hjertefrekvens til dine motstandere. Du kan også legge til flere valgmuligheter, registrtere deres hjertefrekvens og deretter bruke den informasjonen i appen. Det er også en funksjon som lar deg lagre all informasjon og spillere kan dele sine resultater og screenshots via deres Twitter kontoer.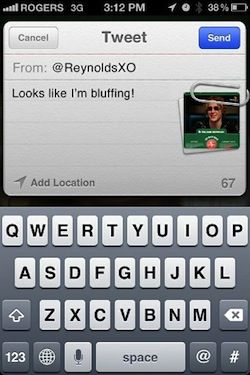 "BluffCam gives players that added edge over their opponents, helping them understand how different poker hands can affect them physiologically," fortalte Wiseman. "Its easy-to-use design and added features like the player 'notebooks' make it the ideal poker companion for anyone looking to stay cool when it counts most."
BluffCam has proven so popular that one of poker's biggest up-and-coming stars and winner of the 2010 PCA High Roller event, the aforementioned Reynolds, serves as an advocate for the app. "I'm so impressed by how easy to use and accurate BluffCam is,"sier Reynolds. "This is super smart technology, and I can now keep my bluff frequency high by keeping my heart rate low!"
Reynolds er ikke den eneste som benytter seg av BluffCam. I den korte tiden appen har vært på markedet har spillere over hele verden tatt denne appen i bruk. Sjekk ut noe av tilbakemeldingene av appen fra noen av brukerne av BluffCam fra iTunes app store:
"I would recommend it to any serious poker player that is looking to make bank. Cannot wait for updates and future apps." –Berbanyc
"Worth the 99 cents all day." –Jamey ooo
"Before the bluff cam everyone knew I was bluffing. Now with some practice with this app I keep my beat down low." –BlufferFishy
Du kan laste ned BluffCam ved ente iTunes eller ved bluff-cam.com. Mens du gjør dette, følg BluffCam på Twitter og like dem på Facebook.
**Dette er en annonse