Black Friday krønikere: Twitter reaksjoner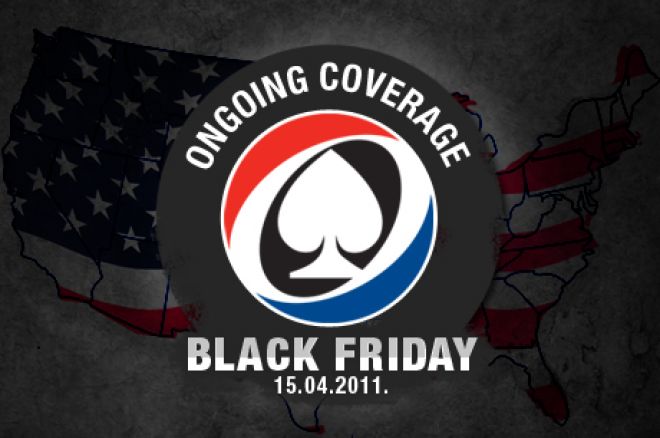 Siden Black Friday inntraff pokerverden som et lyn klar himmel for nøyaktig 1 år siden den 15. april, 2011, har sosiale medier vært en yndet plass for spillere over hele verden og uttrykke sine tanker, følelser, frustrasjoner og oppdatering rundt hendelsene ved Black Friday. Noen av de største navnene innen poker inkludert Vanessa Selbst, Phil Galfond, Randy Lew og Jeff Madsen, og med den mest kjente spilleren gjennom historien, Doyle Brunson har ytret seg gjennom Twitter dagen Black Friday inntraff.
Man vet at poker blir skrevet om i media når media følger med på Twitter og andre sosiale medier for å følge med på hva som skjer. ESPN er størst på sport i USA og har fulgt Black Friday siden i fjor.
Dette er hva ESPN skrev på sin Twitter konto om nyheten med Black Friday:
@ESPN_Poker: According to @GamblingComp, all the indicted sites, around the world, will be down within 48 hours. #gg
Når noe så stort inntreffer poker – og Black Friday kan fort bli det største som har skjedd pokeren, bade i negative og positive forstand.
Her er et utdrag av de nevnte spillernes Twitter kontoer dagene etter Black Friday:
@VanessaSelbst: Sorry everyone who is messaging me, I don't have any more info than anyone else. I will let you all know when I know ...
@VanessaSelbst: Freaking out will not help!We need2get online poker legalized NOW.The past is the past,let's look to the future http://www.tweetforpoker.com
Mike "Timex" McDonald might have easily been one of those players who might have been freaking out much more than was good for him. He stated that he felt the sky was falling in his reaction tweet.
@MikeMcDonald89: Every few months people think the sky is falling in online poker. For the first time ever I'm one of them. WTF
Steve O'Dwyer, Justin "Boosted J" Smith, Jonathan Aguiar, Brandon Adams, Christian Harder og Jason Senti brukte Twitter til å ytre sine meninger om Black Friday.
@steveodwyer: drinking at a bar called prohibition, seems fitting :( #blackfriday
@BoostedJ: Will work for food and shelter
@jonaguiar: the poker world is going to consume about 3x as much weed as usual today, buy stock in swisher and zigzag
@jonaguiar: The mayans were only 18 months off predicting the end of the world, pretty impressive
@badams78: Alright, I read everything. Prognosis: Unfavorable
@realcharder30: WOW... You can't reg for tourneys, sit at a cash game, or transfer $ on pokerstars...Dear god......
@PBJaxx: Well, on the day I sent the US gov't a LOT of money to finish up 2010 taxes, they shut down my income stream.
@philgalfond: Does anyone want to buy a slide?
@philgalfond: ...Whatever is gonna happen is gonna happen. All we can do is try to voice our support for online poker, and then wait and see.
@Randy_Lew (@nanonoko): hmm…might need to consider buying from the value menu again at McDonals if things don't work so well
@mawaxman (@Matthew_Waxman): Pretty excited I ran out of excuses not to hang out with my family on Sundays. (now that online poker and ftball are gone)
@adamjunglen: There's always money in the banana stand.
Jeff Madsen was one of those that took the glass-is-half-full approach.
@jeffmadsenobv: I think one thing is abundantly clear at this point... TIME TO HAVE A SICK WORLD SERIES
Even the Godfather himself, chimed in, although he was more calling the online players to the live realm.
@TexDolly: Now maybe we will see if these online "superstars" can play real poker. Ante up suckers!
Pokerspillere var ikke dem eneste som brukte Twitter dagen Black Friday inntraff. PokerNews' sin egen Kristy Arnett hadde sitt og si.
@kristyarnett: Don't want to drink alone. Heard that makes u an alcoholic. Sushi chef is wasted tho. :(I'm sad! http://yfrog.com/h4dvtooj #blackfridaydrink
Flere reaksjoner ble postet på Twitter de neste ukene etter Black Friday ettersom mer informasjon ble tilgjengelig, men vi har ikke plass til å legge ut alle disse. Man kan sjekke Twitter reaksjonene fra spillere som en helhet og gjøre seg noen tanker om at dette ikke er var en god dag for pokeren, og spillere verden over har følt dette.
Det PokerNews vet er at det ikke har vært en så stor trafikk på Twitter etter at Black Friday inntraff og satte en hel pokerverden i sjokk. Vi tror ikke noe slik vil skje i nær fremtid igjen. Det eneste vi kan forestille oss er at det igjen er et potensial for at online poker skal bli lovlig i USA igjen, og aktørene blir 100 % seriøse.