PokerNyheter 23. mars: Bwin.Party med iPad App, Donkr Highroller dag 3 og mer!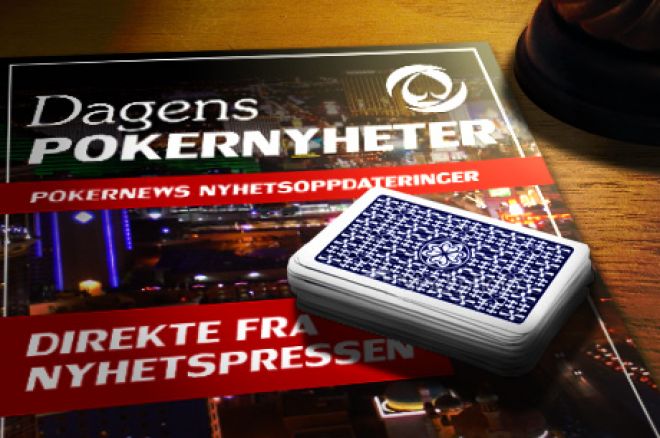 PokerNyheter 23. mars, 2012
.
FTP, PokerStars og AP med utvidet svartid til på sine tiltaler
Mens hele verden venter på de pågående forhandlinger mellom Groupe Bernard Tapie og Full Tilt Poker som mulig blir fullført denne uken, har U.S. Attorney for the Southern District of New York gitt en utvidet utsettelse til Full Tilt Poker og andre som har mottatt sivile søksmål mot seg som følge av Balck Friday i 2011.
Etter at den tidligere fristen til 19. mars er passert, har PokerStars, Absolute Poker, Howard Lederer, Ray Bitar, Rafe Furst og Chad Elie fått en ny frist til 14. mai, 2012. til å svare for seg.
Les mer om saken hos PokerNews.com.
Adios, Bodog - Forlater det spanske markedet!
Bodog var tilbake i nyhetsbilde denne uken, etter at de annoserte sin exit ut av de spanske markedet og er foran de nye spanske lovgivningene. Selskapet kom med en uttalelse til sine spanske spillere om sin beslutning:
"We would like to inform you that due to recent regulatory changes, we are no longer able to offer our betting or wagering services to residents of Spain or Spanish territories. Your account will be disabled on the 31st of March 2012 and as of today; you are no longer able to make any further deposits to your account."
De nye lovene innen gambling i Spania er forventet og tre i kraft senere i år. Mer enn 60 selskaper har søkt om lisens. Blant disse er online pokersidene PokerStars, bwin.party, 888 og Ladbrokes. Groupe Bernard Tapie rapporterer at de har søkt før fristen som var 14. desember, 2011.
Bwin.Party lanserer iPad App
Denne uken kom bwin.party digital entertainment som den seneste online operatøren med sin lansering av en spille app for iPad. Lanseringen kommer mer enn et år etter selskapet lanserte en penge plattform for iPhone og Android telefoner. iPad app`en er basert på på disse modellene (iPhone og Android).
"The bwin iPad Poker app gives bwin.com customers unrestricted access to the bwin poker account — now with the full iPad resolution of 1,024 by 768 pixels," sier Berthold Kao, head of bwin.party's mobile, touch og video department.
"The bwin iPad Poker app extends our lead in mobile entertainment on tablet devices and builds on our hugely successful iPhone Poker app that bwin.party designs with its own mobile development teams. Together with the bwin Sports App for pre-event and live betting enthusiasts and several Casino games for Android and iPhone as well as Java based phones, we now offer our customers an exciting portfolio of games."
Man kan laste ned app'en fra ITunes Store eller hos Bwin sin nettside, hvor en nedlasting dekker bade iPhone og iPad versjonen.
Sjekk bwinparty.com for mer informasjon.
Velkommen til Sydney!
PokerStars.net ANZPT er på plass i Sydney, Australia, denne uken. PokerNews' Lynn Gilmartin har sjekket ut byen og vier sine favorittsteder.
Donkr Highroller dag 3 og NM 2012 programmet
I forbindelse med årets Norgesmesterskap i poker som arrangeres i Dublin fra 24. mars til 1. april er den andre utgaven av Donkr Highroller allerede i gang.
I fjor ble Donkr Highroller første gang spilt under selv NM uken, i år blir den arrangert i forkant av NM.
Hos arrangørene www.donkr.com kan man fra i kveld kl. 21.00 følge dag 3 av Donkr Highroller 2012.
Se Norges beste cashspillere i aksjon fra kl. 21.00 hos www.Donkr.com og her kan du lese mer om Donkr Highroller 2012.
Kilde: www.donkr.com
Norgesmesterskapet i poker 2012
| | | | |
| --- | --- | --- | --- |
| Ukedag | Dato | Tid | Turnering |
| Lørdag | 24.03.2012 | 14:00 | Texas Hold'em Fixed Limit 6-handed |
| Søndag | 25.03.2012 | 12:00 | Texas Hold'em No Limit HU Round 1 |
| Søndag | 25.03.2012 | 16:00 | H.O.R.S.E. Day 1 |
| Mandag | 26.03.2012 | 12:00 | Texas Hold'em No Limit HU Round 2 |
| Mandag | 26.03.2012 | 15:00 | Omaha Pot Limit 6-handed 3rd chance |
| Tirsdag | 27.03.2012 | 12:00 | Texas Hold'em No Limit HU Round 3 |
| Tirsdag | 27.03.2012 | 15:00 | Omaha Pot Limit Day 2 |
| Tirsdag | 27.03.2012 | 16:00 | Texas Hold'em No Limit Main Event Womens |
| Onsdag | 28.03.2012 | 12:00 | Texas Hold'em No Limit HU Round 4 & 5 |
| Onsdag | 28.03.2012 | 14:00 | Texas Hold'em No Limit Main Event Day 1A |
| Onsdag | 28.03.2012 | 16:00 | H.O.R.S.E. Day 2 |
| Torsdag | 29.03.2012 | 14:00 | Texas Hold'em No Limit Main Event Day 1B |
| Fredag | 30.03.2012 | 14:00 | Texas Hold'em No Limit Main Event Day 2 |
| Lørdag | 31.03.2012 | 14:00 | Texas Hold'em No Limit Main Event Day 3 |
| Søndag | 01.04.2012 | 14:00 | Texas Hold'em No Limit Main Event FT |
Kilde: www.Donkr.com