2012 World Series of Poker Europe arrangeres 21/9-4/10-12

Tor Olsen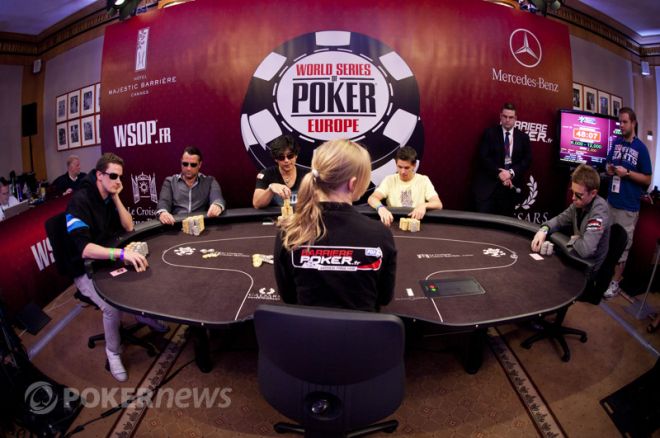 World Series of Poker Europe – Sponset av BarrierePoker.fr har offentligjort oppsettet for det sjette årlige WSOPE. Syv bracelet turneringer er blitt presentert og turnering serien vil pågå i perioden 21. septer til 4. oktober. 2012 ved Casino Barrière de Cannes Croisette og ved Hôtel Majestic Barrière i Cannes, Frankrike.

"We can't wait to return to the Cote D'Azur in 2012," said WSOP vice president Ty Stewart. "We have moved up the schedule a couple of weeks to take better advantage of the great weather and all Cannes has to offer. Ask anyone who attended last year. This tournament is now a certified major championship and the experience is second to none. The media is already speculating on 1,000 players for the Main Event and we will be ready for them."
"We are pleased to welcome back this event to the Cannes Barrière resort," added Alain Fabre, CEO of Barrière Croisette Casino. "The first edition of the WSOPE in Cannes was a great success, an award winning event that we took great pride in. We look forward to hosting the players again and will strive to make this 'festival of poker' even more fabulous."
Oppsettet er likt fjoråret, men noen side turneringer ute bracelet er blitt lagt til i oppsettet, som etter fransk love r No-Limit og Omaha spill.
Her er oppsettet for hele 2012 WSOPE:
2012 WSOPE oppsett
| Dato | Dag | Øvelse# | Turnering | Innkjøp |
| --- | --- | --- | --- | --- |
| 21/9-2012 | Fredag | 1 | Six Handed No-Limit Hold'em — Dag 1 (3 dager) | €2 500 + €200 |
| 22/9-2012 | Lørdag | 2A | No-Limit Hold'em — Dag 1A (5 dager) | €1 000 + €100 |
| 23/9/-2012 | Søndag | 2B | No-Limit Hold'em — Dag 1B (4 dager) | €1 000 + €100 |
| 24/9-2012 | Mandag | 3 | Pot-Limit Omaha (3 dager) | €5 000 + €300 |
| 25/9-2012 | Tirsdag | 4 | No-Limit Hold'em SHOOTOUT (3 dager) | €3 000 + €250 |
| 26/9-2012 | Onsdag | 5 | Mixed-Max No Limit Hold'em — Dag 1 (4 dager) | €10 000 + €450 |
| 27/9-2012 | Torsdag | 6 | Six-Handed Pot Limit Omaha (3 dager) | €1 500 + €150 |
| 29/9-2012 | Lørdag | 7A | No-Limit Hold'em Main Event — Dag 1A (5 dager) | €10 000 + €450 |
| 30/9-12 | Søndag | 7B | No-Limit Hold'em Main Event — Dag 1B (4 dager) | €10 000 + €450 |