Følg EPT København live - Ravn er monster chippy før finalebordet

Tor Olsen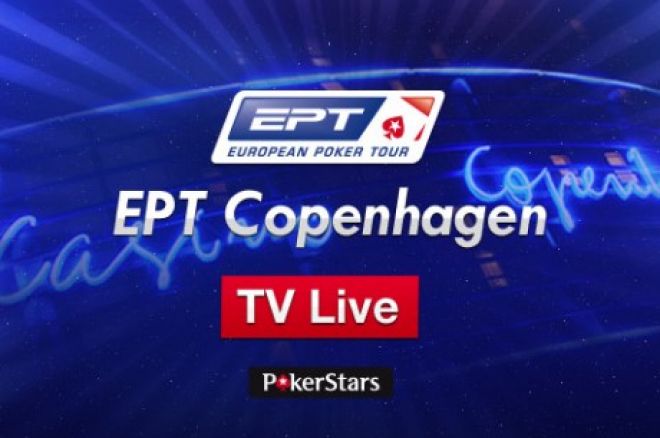 EPT København startet med 299 spillere, nå sitter det åtte spente spillere klare til å kjempe om EPT København 2012 tittelen.
Åge Ravn fra Narvik er monster chipleder før finalebordet starter (12.00 CET). Åge kjemper mot 3 dansker, en belgier, en nederlender og amerikanere. Vinneren stikker av med 2 515 000 DKK.
Du kan følge EPT København på enten gjennom våre live oppdateringer på engelsk og dansk, eller gjennom vår direkte Live Stream.
Bordtrekningen til finalebordet:
Sete1: Bjarke Hansen, 1 497 000
Sete2: Mickey Petersen, 1 205 000
Sete3: Steve O'Dwyer, 453 000
Sete4: Spencer Hudson, 447 000
Sete5: Jacob Rasmussen, 1 325 000
Sete6: Pierre Neuville, Team PokerStars Pro, 908 000
Sete7: Aage Ravn, 2 458 000
Sete8: Niels van Alphen, 644 000
Presentasjon av spillerne (engelsk tekst)
Seat 1: Bjarke "Metalmania" Hansen, 26, Esbjerg, Denmark – 1,497,000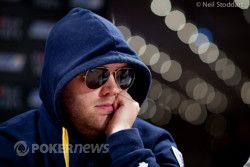 Hansen hails from Esbjerg – the fifth largest city in Denmark - but has been living in Malta for the last seven months after playing a tourney there last March and really liking the place. Lots of Danes now live in Malta, working in the gaming industry and/or playing online professionally. Hansen actually never planned to play EPT Copenhagen but won his seat after playing in an invitational VIP Sit and Go a month ago. He has been a pro since 2004, initially playing No Limit Hold'em but now focusing on Heads-Up PLO cash games. He also coaches PLO via the Pokernet.dk poker forum. His best live result was runner-up in a tourney in Bulgaria in 2010 for €97,515. He is being supported in Copenhagen by his brother Sune who is here working for PokerNews Denmark. Sune said: "He actually reversed jinxed himself by booking a ticket back home to Malta for yesterday - and then had to cancel it after making Day 4."
Seat 2: Mickey 'mement_mori' Petersen, 22, Denmark – PokerStars Team Online – 1,205,000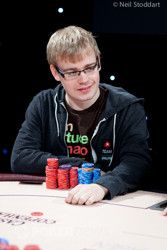 Local hero Mickey 'mement_mori' Petersen is one of the most successful online poker tournament players Denmark has ever produced. It's a game he discovered while playing Magic: The Gathering, and one he started to master while taking a year off from his studies. Petersen began making so much money online at PokerStars that he decided to ditch going to University in favour of turning pro. He also started qualifying for live PokerStars events around the world and he's a regular on the European Poker Tour.
Most of his biggest online results have been scored in PokerStars' SCOOP events, including runner-up in a $2,100 No Limit Hold'em event in 2010 for $169,286. Mickey has also cashed in several other SCOOP events, all of which have helped him become one of the highest earners in the history of the series, with more than $500,000 in winnings. He's also won big in other PokerStars online tourneys, including third place in the Sunday Warm-Up helping him top several online Player of the Year and Leader Board rankings.
Winning an EPT title is high on Petersen's list of career goals. He's only cashed in one Main Event before – EPT Barcelona this season – but has ten cashes in EPT side events including fourth at the EPT Grand Final €5,000 event in Season 6 for €73,400. He currently lives in London.
Seat 3: Steve O'Dwyer, 29, Pennsylvania, USA – 453,000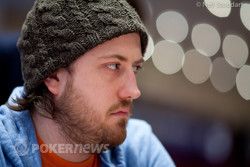 Steve O'Dwyer hails from the United States originally, but recently moved to Ireland to be able to play online. The communications and broadcasting graduate also does pretty well for himself in live events and has had some astonishing results in the last year. His first big cash came in December 2009 when he finished sixth in the Doyle Brunson Five Diamond World Poker Classic for over $200,000. Then last summer O'Dwyer won a $5,000 NL event at the Bellagio Cup for $259,452 and a few weeks later the Epic Poker League's $1,500 Pro-Am event. He has been on a tear during this season's EPT. In August, he finished fifth in the EPT Barcelona €10,000 High Roller for €46,900, then a month later was runner-up at EPT London for £ 465,000, his biggest cash to date. He has also made the final of three EPT side events, cashed in two more and was runner-up at WPT Venice in December for €95,530. He has racked up more than $2 million in total lifetime tournament earnings. O'Dwyer is currently lying in eighth place in the EPT Player of the Year race – and he'll get at least 320 more points for making the final here in Copenhagen.
Seat 4: Spencer Hudson, 28, Austin, Texas – PokerStars qualifier – 447,000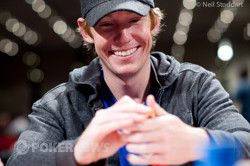 Hudson took up poker around six years ago while studying business at university in Houston. He was so successful that he eventually abandoned his degree and took to playing online full time. Like many other American pros, Hudson has had to relocate since Black Friday and is now living in Playa del Carmen – one of the most popular tourist resorts in Mexico and now home to at least 30 poker professionals including Shaun Deeb and Jonathan Aguiar. Hudson has been playing EPTs for a couple of years including Snowfest, London and Deauville, and has cashed twice at the PCA. This year he finished 55th for $35,000. He also has several WSOP cashes to his name, but his best results have come online including winning the Sunday Million in 2010 for around $265,000 and also making the final again last month.
Seat 5: Jacob Rasmussen, 28, Copenhagen, Denmark – 1,325,000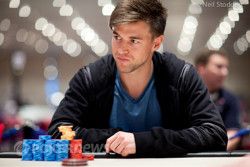 Known as "Sasuke" in the poker community, former law student Rasmussen has been playing around six years. He is best-known for his performances online where he specializes in high stakes cash games. He doesn't play that many live events but when he does, he tends to do well, especially at EPTs in Copenhagen where he has cashed three times out of four. His biggest cash to date was fifth place at EPT Dortmund in Season 5 for €139,000. At the time, it was the biggest EPT ever held with 493 players. Rasmussen's girlfriend Celina is a weather girl on Denmark's largest online news site ekstrabladet.dk.
Seat 6: Pierre 'Zoutechamp' Neuville, 69, Belgium – Team PokerStars Pro - 908,000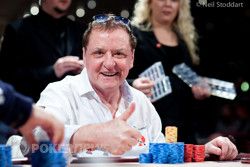 Pierre started playing poker 50 years ago at university when he and his fellow students used to play every day. He then took 25 years off (!) while working as Vice President of Hasbro. He switched careers in the mid-1990s to become a personal advisor to sports stars and celebrities. Once he retired, he decided to follow his dream of playing poker around the world. He took his wife to the PCA in 2008 and finished 18th, scuppering his wife's doubts that he could compete against world-class players! The following season he did even better and came ninth place at EPT5 San Remo for €78,800. But the major turning point in his new career as a poker pro was his runner-up finish at EPT Vilamoura in Season 6. He won EPT Qualifier of the Year that same season, and soon after became a Friend of PokerStars. He has since become a full-on member of Team PokerStars Pro. Since Vilamoura, he has cashed in eight further EPTs, as well as the World Series in 2010. He won his seat to Copenhagen via PokerStars Steps satellites.
Seat 7: Aage Ravn, 26. Narvik, Norway – PokerStars qualifier - 2,458,000

IT consultant Aage Ravn hails from Narvik, a small town inside the Arctic Circle in Norway. He first came to attention when he won a side event here at EPT Copenhagen in Season 3 – his first ever live event. His biggest score to date was when he made the final - finishing sixth - at the 2010 PCA for $450,000 after winning his seat on PokerStars in a $100 rebuy satellite. He cashed at the PCA the following year as well and also went deep at the Aussie Millions this January for AUS$ 35,000. He doesn't play many big tournaments, but EPT Copenhagen marks a successful return. His fellow countryman Johnny Lodden describes his playing style as "a new invention of poker".
Seat 8: Niels van Alphen, Westkapelle, Netherlands – PokerStars qualifier – 644,000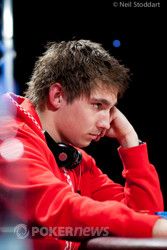 21-year-old Dutchman Niels van Alphen earned the nickname "The Alpha Male" on his first European Poker Tour tournament here in Copenhagen by crushing from the get go. Not afraid to play big pots and make big bluffs, van Alphen made an impact in the tournament from level 1.
Van Alphen is still in college – in his second year of Aquatic Ecotechnology at Hogeschool Zeeland. He plays poker as a hobby but is very successful at it. He finished second in a WCOOP event in 2011 for $171,500 and has had several other big scores online lately under his nickname 'fisherman903'.
He played his first big live tournament back in Macau but failed to book any success there. He had his eyes on this EPT because he could combine it with studying and his other big hobby: soccer. He is a goalkeeper for local Zeeland team Noormannen 1. Van Alphen lives in Westkapelle and is supported here by his girlfriend.
Premietutbetalinger (danske kroner):
| | |
| --- | --- |
| Plassering | Premie |
| 1 | 2.515.000 |
| 2 | 1.600.000 |
| 3 | 1.000.000 |
| 4 | 740.000 |
| 5 | 490.000 |
| 6 | 390.000 |
| 7 | 290.000 |
| 8 | 191.400 |