Pokernyheter 22. okt - Brandon Adams snakker ut om Full Tilt Poker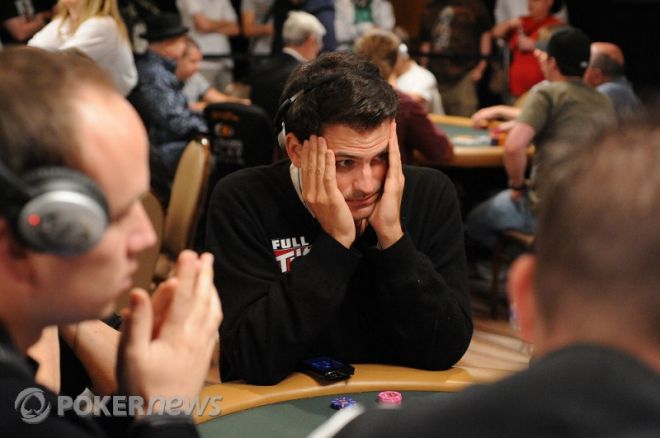 Vi hos PokerNews er glade for at tidligere Full Tilt Poker proffer åpner seg opp om situasjonen ved deres tidligere arbeidsgiver. Tidligere denne uken fortalt Patrik Antonius at han kan tape så mye som €5 millioner om FTP går konkurs. På torsdag snakket Brandon Adams ut om sine tidligere uttalelser hvor han forsvarte Full Tilt Poker etter Black Friday. I denne utgaven av pokernyhetene gir vi dere de siste kommentarer fra Adams, oppdatering fra de ansattes protest hos William Hill og Østlandsmesterskapet i poker er i gang i Sverige.
Brandon Adams om Full Tilt Poker
Tidligere Full Tilt Poker Red Pro Brandon Adams var en av dem første til å forsvare sin arbeidsgiver etter Black Friday. Dagen etter at de tre store pokersidene ble stengt av U.S. Department of Justice – DOJ, skrev Adams via Twitter at Full Tilt Poker er styrt av mer ærlige personer enn B]PokerStars[/B]. så deres penger er garantert sikre"
Oops.
Adam har etter dette blitt mobbet for sin kommentar av mange innen pokersamfunnet, men han innrømmer sine feil og har til og med svart i en post på TwoPlusTwo kalt "FTP pro Brandon Adams trolls PokerStars."
"I have no guilt in the Full Tilt situation," skrev Adams. "I made some dumb comments about PokerStars after wine on Black Friday; that is the extent of my misdeeds. I have always spoken my mind in poker. I've written and spoken about controversial stuff everywhere for six years — on podcasts, in interviews, in these forums, and in private conversations. Some of the stuff I say will, inevitably, be proven terribly wrong."
"I never had anything close to an ownership interest in FT. My deal was only marginally better than a standard FT deal of $35 an hour plus rakeback. The fact that FT couldn't cover deposits came as a complete shock to me. I never knew about any shortfall."
"In the recent DOJ material, they note that the total amount paid to FT owners was around $400 million. If I had attempted to estimate that number in, say, March 2011, I would have come with a number that was in that range, but somewhat smaller, perhaps $200-250 million. The really shocking thing about the recent FT material is this: it implies that Full Tilt made little more than $100 million over the life of the company, despite raking about $3 million a day over a significant length of time. At the time of Black Friday, they had -$300 million in book value, and owner payouts of $400 million. You think I would have been associated with the company if I knew that they had negative book value for even a single minute? I wouldn't have."
TwoPlusTwo tråden er fult av mye rart, men Adams sin tråd finne på side 22, og ta gjerne titt på den.
Protesterer i sinne på WillIam Hill
I en protest med nærmere 200 ansatte hos spillegiganten William Online denne uken gjordet at to sjefer fløy til Tel Aviv for å roe gemyttene. William Hill CEO Ralph Topping møtte Playtech CEO Mor Weizer på fredag for å diskutere utfallet av protesten, som er følge av rykter om at William Hill skal omorganisere sine lokasjoner til England eller Gibratar. William Online er eid 71 % av William Hill og 29 % av Playtech.
The Telegraph skriver at protestene I Tel Aviv har trigget ansatte i Bulgaria, og ingen av kontorene var i jobb på fredag. Protesten har spredt seg til Manila hvor de ansatte er under Playtech.
Saken har også tilknytting til avskjeden av "chief marketing officer [B]Eyal Sanoff[/B"], som sluttet den 27. september.
[I]Les mer om historien ved [URL="http://www.telegraph.co.uk/finance/newsbysector/retailandconsumer/8839599/William-Hill-hires-former-Israeli-intelligence-officers-to-regain-control-of-Israel-joint-venture.html#disqus_thread"+]The Telegraph[/URL].[/I]
[H]James Bord med penger tilbakegaranti[/H]
James Bord med penger tilbakegaranti
Den engelske pokerproffen og [B]2010 World Series of Poker Europe Main Event[/B] mester [B]James Bord[/B] skapte overskrifter i forrige uke da han sa at amerikanske pokerproffer har mindre ferdigheter enn de europeiske spillerne. Han støttet opp sitt utsagn med å garantere penger tilbake til dem som veddet opp til €500 ved [B]Matchbook.com[/B] dersom en amerikaner vant 2011 WSOPE Main Event:
[I]"I don't think an American can win the bracelet; Europeans are now far superior," fortalte Bord . "We used to look up to the U.S. players back in the day, but those days are now long gone. I'm prepared to put my money where my mouth is and refund any losing bets up $500 if an American wins." [/I]
På torsdag måtte Bord svelge noen kameler og åpne sjekkheftet sitt. New Yorker [B]Elio Fox[/B] vant etter han vant over engelskmannen [B]Chris Moorman[/B] heads up, og Bord måtte bite negler helt fram til den siste og avgjørende handen. Vi er ikke sikker på hvor mye dette kostet Bord, men han virker sjenerøs etter nederlaget ved sin Twitter.
[TWITTER="http://twitter.com/#!/Bordy61/status/127153367003836416"]
img=http://a0.twimg.com/profile_images/1453857409/IMG00039-20110405-1530_normal.jpg
nick=Bordy61
name=James Bord
date=Thu Oct 20 22:44:59 +0000 2011
text=Looking for new employment @BenbaLamb can I be the waterboy for you're Nov9 final table!
[/TWITTER]
[TWITTER="http://twitter.com/#!/Bordy61/status/127153741001531392"]
img=http://a0.twimg.com/profile_images/1453857409/IMG00039-20110405-1530_normal.jpg
nick=Bordy61
name=James Bord
date=Thu Oct 20 22:46:28 +0000 2011
text=Congrats @Smokrokflock Please don't visit Matchbook head office anytime soon :)
[/TWITTER]
[I]Les mer om veddemålet ved [URL="https://uk.pokernews.com/news/2011/10/james-bord-puts-his-money-where-his-mouth-is-7380.htm"+]UK.PokerNews.com[/URL].[/I]
[H]Østlandsmesterskapet i poker[/H]
I regi av STOKK – Stor Oslo Kort Klubb arrangeres det Østlandsmesterskapet i poker 2011, som de fleste har fått med seg blir slike turneringer avholdt i Sverige.
For oppdateringer, videoer, og kommentarer fra Østlandsmesterskapet finner man hos [URL="http://no.gaminghill.com/forum/view_thread/1471"+]Gaminghill[/URL].
[H]Ut på veien igjen[/H]
Bare timer etter at [B]World Series of Poker Europe[/B], måtte [B][I]PokerNews [URL="http://no.pokernews.com/live-reporting/2011-pokerstars-it-ept-san-remo/main-event/"+]Live Reporting Team[/URL][/I][/B] pakke og sette kursen til Italia for [B] PokerStars European Poker Tour[/B] sin turnering I San Remo. [B]Kristy Arnett[/B] kom med et sammendrag fra Main Event like etter at hun ankom San Remo.
[VIDEO]http://no.pokernews.com/video/ept-san-remo-season-viii-2011-day-1a-update-6426.htm[/VIDEO]
[HTML]<iframe src="http://www.facebook.com/plugins/likebox.php?id=120075474692775&amp;width=700&amp;connections=24&amp;stream=false&amp;header=false&amp;height=255" scrolling="no" frameborder="0" style="border:none; overflow:hidden; width:700px; height:255px;" allowTransparency="true"></iframe>[/HTML]