Ukentlig nyheter: Donkers Highroller - Episode 1-3, ute nå!

Theodor Jensen
Vi har satt sammen noen av nyhetene i forrige uke og noen ferske nyheter som blant annet at de 3 første Donkers Highroller episodene er ute nå på nettet. Ved PokerStars WCOOP har flere norske spillere gjort seg bemerket med finalebordplasseringer i løpet av helgen.
Gikk du glipp av disse nyhetene?
WPT Borgata Poker Open dag 1a: Korotki Leder, Selbst nr 2
Ved dag 1a av 2011 World Poker Tour Borgata Poker Open leder Abe Korotki og Vanessa Selbst er med i toppen.
WCOOP dag 13-14: Bjerkmann og "playitsafe" med finalbord
Ved dag 13 av WCOOP endte Marcel Bjerkman på 6. plass ved øvelse nr 35, mens ved dag 14 endte "playitsafe" på en 3. plass ved øvelse nr 39.
Nyheter og sammendrag fra forrige uke
Donkers Highrollers ute nå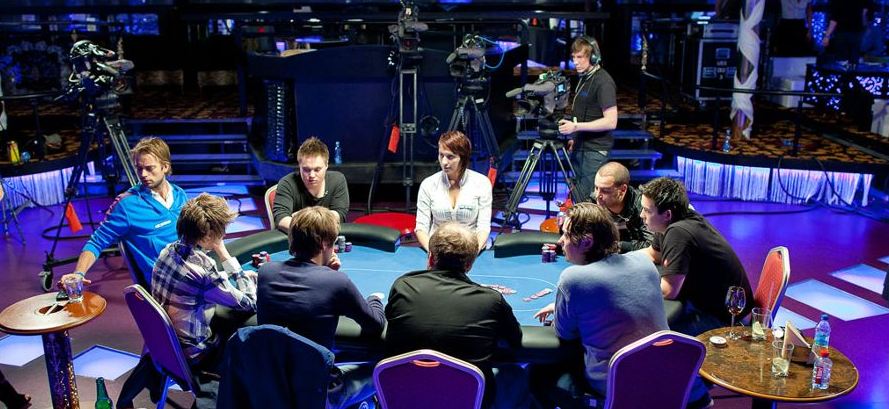 Under NM i Riga i april ble det avholdt et Highroller cash lag med et minimum innkjøp på kr 50.000. Nå er de tre første episodene blitt lagt ut på www.side3.no, hvor en uheldig spiller taper kr 134.500.
Deltagerne ved Donkers Higroller erTore Lagerborg, Stephan Kjerstad, Mads Åmot, Daniel Hermundstad, Ole-Kristian Nergård, Petter Solli Berg, Hans-Ari Varsi, Mourad Sidali, Johnny Lodden og Joachim Buch.
NM mester Henrik Tollefsen og poker profilen Henning Granstad kommenterer episodene.
Bilde og kilde: www.side3.no – www.donkr.com
Tysk stat godkjenner nettspill
Tyskland har 16 stater/Länder. En av dem, Schleswig-Holstein har nylig godkjent lovgivning som legaliserer og regulerer online poker.
Den nye lovgivningen tillater betting selskaper, sports books, poker og alle kasino spill på nettet untatt roulette, blackjack og baccarat, ifølge eGaming Review.
Den vedtatte lovgivningen vil tre i kraft fra 1. januar 2012 og lisenser vil bli gjeldende fra 1 mars. Schleswig-Holstein vil få en skatteinntekt på 20 % på brutto fortjeneste på dette.
Befair kom med en pressemelding med følgende om denne saken:
"Schleswig-Holstein's new online gambling treaty is a welcome piece of legislation geared towards creating a genuinely open, transparent and responsible online gambling market in Germany. We are pleased that it has today passed through the state parliament and we look forward to applying for a license to operate there."
"We are now hopeful that the other 15 German states will make the required amendments to their proposed State Treaty, in order to bring it into line with EU law and with the law passed in S-H today," it continued. "Betfair is committed to participating in the online gambling market in Germany, ready and willing to pay taxes there and offer German consumers competitive, innovative and safe products."
Les mer hos EGRMagazine.com.
World Poker Tour Paris High Roller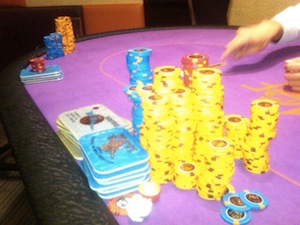 Fredag ble €15.000 high-roller turneringen spilt ved 2011 World Poker Tour Rendez-Vous à Paris. Blant de 36 spillerne som deltok var blant andre fjorårsvinneren Freddy Deeb og nr 2 Sorel Mizzi. Ville historien gjenta seg? Premiepotten var på €521.000 noe som gav $234.495 i første premie.
Mizzi startet dag 2 som chipleder og med fem spillere igjen på søndag og
, Mizzi tvitret :
Chip leader w/ 740k of 1.8 Million in play in high roller... 5 left! Also big congrats to @matthew_waxman for shipping WPT, kid was due!!!

— Sorel Mizzi (@sorelmizzi)
Selv om det ble en déjà vu for Mizziog Deeb, skjedde det med et annet utfall enn i fjor. På floppen



fikk Deeb sine gjenværende chips på med


. Mizzi synte og viste opp


. Både turn og riverkortet var ingen hjelp for Deeb, og Mizzi fikk revansje og €234.495 for førsteplassen.
Winner winner chicken dinner ship the 234,495 euros n the trophy! Revenge is sweet! Freddy plyed gr8 http://t.co/DsUSHff

— Sorel Mizzi (@sorelmizzi)
WPT Paris High Roller Resultater
| Plasseringer | Spiller | Premie |
| --- | --- | --- |
| 1 | Sorel Mizzi | €234.495 |
| 2 | Freddy Deeb | €130.275 |
| 3 | Nichlas Matsson | €78.165 |
| 4 | Jerome Zerbib | €52.110 |
| 5 | Christopher Lastiwka | €26.055 |
Les mer ved FR.PokerNews.com.
Pressemelding fra Full Tilt - AGCC høringen 19. september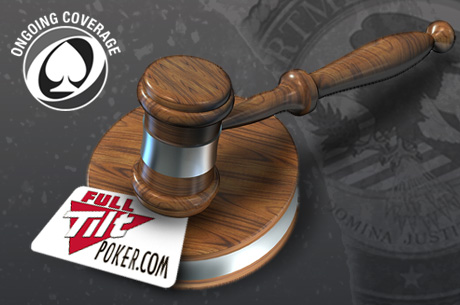 Full Tilt Poker med en pressemelding til PokerStrategy.com
Onsdag denne uken kom Full Tilt Poker med en pressemelding til PokerStrategy.com. Uttalelsen kom innpå de økonomiske problemene som selskapet har og hvordan de håndterer disse. Ifølge pressemeldingen er det ca 250 stillinger ved Pocket Kings Ltd. som kan bli berørt av deres nye innsparingsprogram.
Les hele pressemeldingen nedenfor (engelsk):

"On April 15th 2011 the United States Department of Justice unsealed a federal indictment against a number of individuals employed by major online poker operators. After the issuance of that indictment and a related civil case brought by the United States government, Full Tilt Poker withdrew from the US market. Then in a related action, on June 29th, 2011, Full Tilt Poker had its operating licenses suspended by the Alderney Gambling Control Commission."
"As a result, Pocket Kings Ltd. (provider of marketing and technology services to Full Tilt Poker) has adopted a cost optimization program and estimates that they need to reduce their costs by approximately €12m. This program is intended to streamline the company's operations in order to better position itself for future growth and profitability in Full Tilt Poker's markets outside of the U.S."
"If all of the required cost savings were to be achieved through redundancies, approximately 250 positions could be affected; however the exact number cannot be confirmed until the conclusion of a consultation process with its workforce."
"Notwithstanding the foregoing, Pocket Kings firmly believes it has a very strong future in Full Tilt Poker's Non-US Markets, and is fully committed to ensuring Full Tilt Poker restores the site and repay players in full. To this end, Full Tilt Poker has retained Sea Port Group Securities, LLC as its financial advisor with regard to raising capital and/or assisting in securing a strategic partner in order to fund continued operations of Full Tilt Poker's non-U.S. business. The Company is in active discussions with several parties and will provide a further statement in due course."
Høringen med Alderney Gambling Control Commission skjer bak lukkede dører
Alderney Gambling Control Commission vil avholdet høringen om Full Tilt Poker den 19. september – fire dager etter den opprinnelige fristen. Publikum kunne følge den første høringen i juli , men nå vil det ikke skje. AGCC kom med en uttalse på torsdag hvor de skriver at høringen skjer bak lukkede dører.
Admistrerende director ved AGCC, Andre Wilsenach forteller:

"I am pleased that the FTP hearing will continue as scheduled, as was argued on my behalf. However, I am disappointed with the tribunal's decision that, notwithstanding my arguments to the contrary, the hearing will be held in private. I believe the public has a right to know the reasoning behind the decisions to suspend FTP's licences and call a hearing, and to hear the evidence that will be put forward on my behalf," Wil It is my understanding that the tribunal conducted a difficult balancing exercise of the interests of the various parties, taking into account the legal arguments for and against further postponing the hearing, and for and against allowing the public to attend the proceedings."
Siden Black Friday 15. april har det virkelig stormet rundt Full Tilt Poker som i juni fikk suspendert sin spillelisens, og det er det høringen den 19. september blant annet skal ta stilling til. Så hva skjer med Full Tilt fremover er usikkert, PokerNews vil følge med utviklingen etter høringen og kommer tilbake med en oppdatert sak så rask det lar seg gjøre.