2012 PokerStars Caribbean Adventure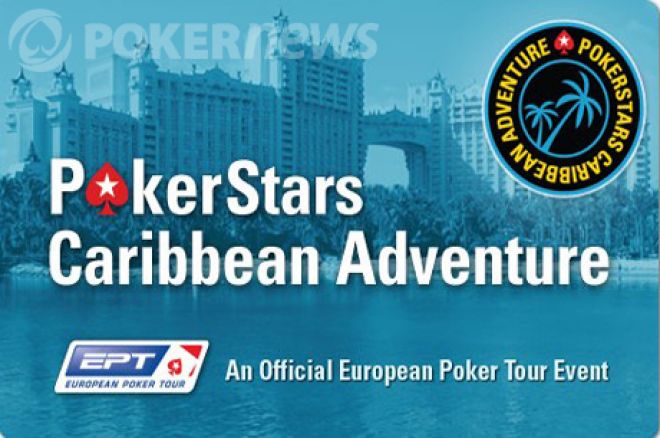 Nedtelling til 2012 POKERSTARS CARIBBEAN ADVENTURE SCHEDULE er startet
[LONDON, UK – 29. september ] – Nedtelling har begynt. Det er kun 99 dager til 2012 PokerStars Caribbean Adventure starter ved Atlantis Resort på Paradise Island. Dette er PokerStars sin største live turnering og den største utenfor Las Vegas, og vil ble avholdt i tidsrommet 5-14. januar.
2012 turneringen er den niende i rekken av PCA – og igjen vil det bli avholdt $10 300 Main Event som starter 7. januar og det forventes at alle verdenspokerproffer og spillere vil delta, inkludert Team Poker proffene og hundrevis av PokerStars kvalifiserte spillere. Flere av øvelsene inkludert Main Event vil bli filmet og sendt senere i 2012.
George Markantonis, President of Kerzner International Bahamas (Atlantis Resort), var veldig begeistret for en ny sesong av PCA og uttaler:

"On behalf of our 7,200 associates here at Atlantis, we welcome the ninth annual PCA to the Bahamas. We are honoured to play a part in hosting this global event. We have watched the growth of this event and its evolution into a world-class tournament. It will bring more than 10,000 people from around the world to our island, and we look forward to welcoming many more participants in the future. We wish the players luck in the tournament and hope that everyone takes advantage of our amazing resort facilities and enjoys our warm Bahamian hospitality."
PCA 2011 i 2011 vant Galen Hall $2.3 millioner for sin seier i Main Event hvor premiepotten var på hele 15 millioner dollar. I fjor ble det avholdt den første high roller øvelsen med $100 000 i innkjøp og ble vunnet av Team PokerStars Pro Eugene Katchalov for $1,5 millioner etter han beseieret superstjernen Daniel Negreanu heads-up.
Tross sin skuffelse i 2011, Negreanu kan neste ikke vente til neste års turneringer, og han uttaler følgene til PokerStars:
"I've never missed the PCA and never will. It's grown each year and has become a must-play poker festival for every serious poker player. It's not just about the Main Event, because there is a full schedule of events for both high- and low-rollers. There isn't a better way to start off your 2012 than heading out to the PCA."
Global Poker Tours Limited (GPTL) managing director, Jeffrey Haas, sier:
"Each year the PCA offers the widest range of poker tournament formats, game variants and buy-ins available on the planet. Nowhere else will players find tournaments with buy-ins from $300 to $100,000, or the kind of games provided in the schedule. We want the PCA to be FUN for players both at the tables and when they're on the beaches, at the nightclubs, or in the restaurants. The PCA is for our players, and their friends and families. We're privileged and honoured to be welcoming thousands of them back for our ninth annual event."
Online satellitter
En fullstendig serie med satellittkvalifiseringer pågår nå hos PokerStars, med innkjøp som starter fra $1,10 eller 4 FPP gjennom PCA Mega Path route. For mer informasjon om disse satellittene kan spillere sjekke ut "Events > PCA > Satellites i pokerklienten til PokerStars, eller se oversikten ved www.pokerstarscaribbeanadventu re.com .
Turneringsoppsett
Det spillerne kan forvente seg er at PCA vil ha flere store side øvelser med store innkjøp, med 41 øvelser i løpet av 10 dager. $10 300 main Event vil det være en $100 000 Super High Roller, en $25 000 High Roller og $1 100 Women's Event (hvor Ricki Lake endte på tredje plass i 2011) blant flere øvelser som tilbys.
World Cup of Poker vil også returnere for sesong 8, ni forskjellige lag vil kjempe om en premie på $290 000, og det er en mulighet for spillere å ta del i den populære $2 100 $2 100 Battleship øvelsen.
Her er et fullstendig oppsett:
| | | |
| --- | --- | --- |
| Dato | Øvelser | Innkjøp |
| Januar 5, Torsdag | | |
| 12:00 | 1 | NL - Holdem - Super High Roller - Day 1 |
| Januar 6, Fredag | | |
| 12:00 | 1 | NL - Holdem - Super High Roller - Day 2 |
| 17:00 | 2 | NL - One Rebuy Super Satellite to Main Event |
| 19:00 | 3 | NL - One Rebuy Super Satellite to Main Event |
| Januar 7, Lørdag | | |
| 12:00 | 1 | NL - Holdem - Super High Roller - Final Day |
| 12:00 | 4 | Main Event Day 1A |
| 14:00 | 5 | PLO - Turbo - "8 Max" |
| 17:00 | 6 | NL - One Rebuy Super Satellite to Main Event |
| 19:00 | 7 | NL - One Rebuy Super Satellite to Main Event |
| Januar 8, Søndag | | |
| 12:00 | 4 | Main Event Day 1B |
| 14:00 | 8 | NL - Turbo - "8 Max" |
| 17:00 | 9 | NL - Holdem - "Survivor" - $10,000 Prize - 30 Min Levels |
| 19:00 | 10 | PLO8 - Turbo |
| Januar 9, Mandag | | |
| 12:00 | 4 | Main Event Day 2 |
| 13:00 | 11 | NL - Holdem - "8 Max" - Day 1 |
| 15:00 | 12 | H. O. E. - $25K GTD - Holdem, Omaha, Stud Eight - Day 1 |
| 17:00 | 13 | NL - Holdem - Win The Button! - Day 1 |
| 19:00 | 14 | PLO - Turbo |
| Januar 10, Tirsdag | | |
| 12:00 | 4 | Main Event Day 3 (TV) |
| 12:00 | 15 | NL - Holdem - LAPT Leaderboard Event! - Day 1 |
| 13:00 | 11 | NL - Holdem - "8 Max" - Final Day |
| 13:00 | 12 | H. O. E. - $25K GTD - Holdem, Omaha, Stud Eight - Final Day |
| 13:00 | 13 | NL - Holdem - Win The Button! - Final Day |
| 13:00 | 16 | PokerStars PLO Championships - "8 Max" - Day 1 |
| 15:00 | 17 | Omaha 8 / Stud 8 - 25K GTD - Day 1 |
| 17:00 | 18 | NL - Holdem - "Survivor" - $10,000 Prize - 30 Min Levels |
| 19:00 | 19 | NL - Turbo |
| Januar 11, Onsdag | | |
| 12:00 | 4 | Main Event Day 4 - play down to 24 players (TV) |
| 12:00 | 20 | NL - Holdem - "6 Max" - Day 1 |
| 13:00 | 15 | NL - Holdem - LAPT Leaderboard Event! - Final Day |
| 13:00 | 16 | PokerStars PLO Championships - "8 Max" - Final Day |
| 13:00 | 17 | Omaha 8 / Stud 8 - 25K GTD - Final Day |
| 13:00 | 21 | PokerStars 8 Game Championships - Day 1 |
| 17:00 | 23 | NL - Holdem - "Ante Up" - Day 1 |
| 18:00 | 24 | NL - One Rebuy - Super Satellite to High Roller (Event #26) |
| 19:00 | 25 | NL - Turbo - Bounty |
| Januar 12, Torsdag | | |
| 12:00 | 4 | Main Event Day 5 - play down to 8 players (TV) |
| 12:00 | 26 | NL - Holdem - Day 1 |
| 13:00 | 27 | NL - Holdem - High Roller - "8 Max" - Day 1 |
| 13:00 | 20 | NL - Holdem - "6 Max" - Final Day |
| 13:00 | 21 | PokerStars 8 Game Championships - Final Day |
| 13:00 | 22 | 6 Max 6 Pack - "6 Max" - NLH, PLO, PLO8, PL Pineapple, PL Krazy Pineapple 8, PL 2-7 Triple Draw - $25K GTD - Final Day |
| 13:00 | 23 | NL - Holdem - "Ante Up" - Final Day |
| 15:00 | 28 | PLO - "8 Max" - Day 1 |
| 17:00 | 29 | NL - Turbo |
| 19:00 | 30 | NL - Turbo - Bounty |
| Januar 13, Fredag | | |
| 12:00 | 4 | Main Event - Final Table (TV - Webcast) |
| 12:00 | 27 | NL - Holdem - High Roller - "8 Max" - Day 2 |
| 12:00 | 31 | World Cup of Poker - Day 1 |
| 12:00 | 32 | NL - Holdem - Bounty - Day 1 |
| 13:00 | 33 | PokerStars Heads Up Championships (64 Cap) - Day 1 |
| 13:00 | 26 | NL - Holdem - Final Day |
| 13:00 | 28 | PLO - "8 Max" - Final Day |
| 14:00 | 34 | NL - Holdem - Women's Event - Day 1 |
| 15:00 | 35 | TwoPlusTwo.com - Players Choice Event |
| 17:00 | 36 | NLH/PLO - Dealer Button Choice (Dealer button chooses which game is played for that hand)- Day 1 |
| 19:00 | 37 | NL - Turbo |
| Januar 14, Lørdag | | |
| 12:00 | 38 | PCA Battleship - Main Event |
| 12:00 | 39 | NL - Turbo Edition of PCA Main Event - 15 Min Levels - 25K GTD |
| 12:00 | 27 | NL - Holdem - High Roller - "8 Max" - Final Day - TV |
| 12:00 | 31 | World Cup of Poker - Final Day |
| 12:00 | 32 | NL - Holdem - Bounty - Final Day |
| 12:00 | 33 | PokerStars Heads Up Championships (64 Cap) - Final Day |
| 12:00 | 34 | NL - Holdem - Women's Event - Final Day |
| 12:00 | 36 | NLH/PLO - Dealer Button Choice (Dealer button chooses which game is played for that hand)- Final Day |
| 13:00 | 40 | NLHold'em – PokerStars VIP Club Freeroll |
| 14:00 | 41 | NL - Turbo - "6 Max" - High Roller |
| 20:30 | | PokerStars PCA Party |