Nyheter fra PartyPoker: Mike Sexton om WPT og Tony G om November Nine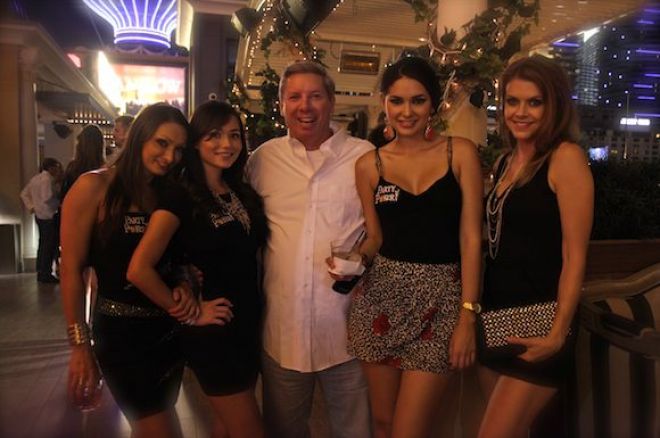 Les mer om Mike Sexton sine synspunkter på den kommende sesong X av World Poker Tour og Tony G sine synspunkter på årets November Nine, i denne uken av nyheter fra
Mike Sexton ser fram til sesong X
PartyPoker ambassadøren Sexton skriver på bloggen til PartyPoker at han ser fram til den kommende sesongen av WPT. Han skriver om alle Royal Flush jenten han skal ta med seg, og WPT vil TV-sende flere europeiske turneringer i USA.
"We're going back to Paris and are televising our WPT event in Vienna in the U.S. as well. The entire entourage including myself, Vince Van Patten, anchor Kimberly Lansing, Tony Dundst, the Royal Flush girls and the crew will be going overseas.The WPT had an impressive 35% increase in viewers in Season IX, and I look for things to be even better in Season X. The WPT is an expanding brand and growing globally with numerous non-televised WPT events scheduled in the U.S. as well as Europe."
Finn ut mer om den kommende WPT sesongen hos PartyPoker bloggen.
Tony G setter en pris på November Nine
Sjeldent er det et emne Tony ikke snakker om, nemlig odds på November Nine.
"As for the November Nine I was looking at the betting and see that Martin Zasko – friend of my faithful German Shepherd is currently regarded as favourite. Did we think before that Zasko was a sure bet to get a bracelet?"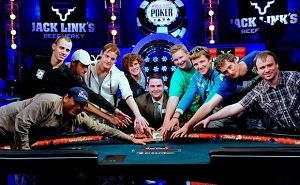 "Donnacha O'Dea's son looks to be a good player (just wait in the coming years son you'll be travelling around bum hunting in cash games – no son of mine!)."
"As for Phil Collins- poor lad, must have been getting this his whole life – sometimes I bet he just wishes people who live in a land of confusion like me had the invisible touch and would just go away. Does he know Chris Ferguson? Jesus he knows me and he knows I'm right, been talking to Jesus (I wish, where's the Professor?) all my life."
Følg Tony G ved PartyPoker Blog.
Den beste bonusen innen online poker
PokerNews har den beste PartyPoker bonusen i verden, og du kan dra fordeler på bonusene om du setter inn penger eller ikke.
Påminnelse: Du kan få $50 gratis når du registrerer en PartyPoker konto via PokerNews, følg vår guide og bruk bonuskoden NO50FREE. Du trenger ikke å sette inn penger og gi fra deg noen bank info. Denne bonusen er eksklusiv for PokerNews, men dersom du vil ha en enda større bonus kan du bruke var gratis party $50 bonus ved siden av vår eksklusive reload bonus for å få $100 ved innskudd for bare $50. Ikke bare får du gode fordeler fra disse, men spillekravene er mye lettere gjennom PokerNews enn ved andre nettsider.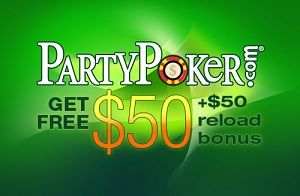 Hvis du registrerer din PartyPoker spillekonto et annet sted, trenger du å sette inn $100 for å få en 100 % bonus på $100. Deretter for å få denne bonusen trenger du å spille inn 600 Party poeng. Men gjennom PokerNews får du samme bonus for halvparten av innskuddet og nesten halvparten av poengene. Følg vår steg for steg guide.