Game Over for Full Tilt Poker? - Oppdatert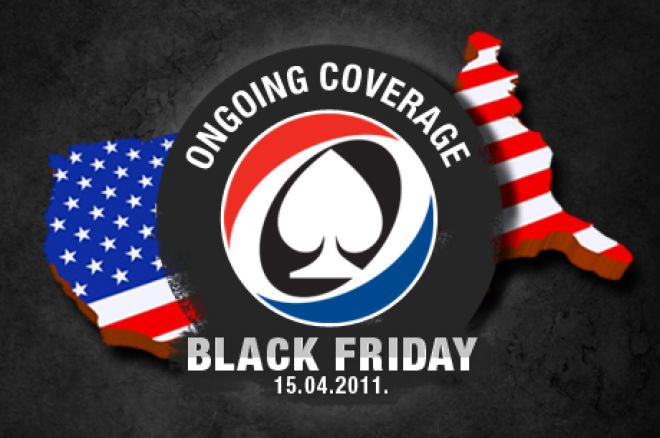 Game over for Full Tilt Poker?
Tidlig onsdag fikk pokerverden nyheten om at Alderney Gambling Control Commission (AGCC) har suspendert Full Tilt Poker sin spillerlisens og har bedt siden om å suspendere all sin virksomhet. I følge den foreløpige rapporten skal alle spill ved Full Tilt Poker over hele verden ha blitt stoppet.'
AGCC har sluppet følgene pressemelding om dette:

"Alderney Gambling Control Commission (AGCC) has today issued Hearing Notices under Regulation 46 of its Regulations to Vantage Ltd, Oxalic Ltd, Filco Ltd and Orinic Ltd, collectively trading as FULL TILT POKER.

In addition, AGCC has issued Suspension Notices under Regulation 47 to the above named companies requiring them to suspend all operations with immediate effect.

The decision to suspend these licenses follows a special investigation prompted by the indictments unsealed by US Attorney General's Office in the Southern District of New York on 15th April 2011, during which grounds were found to indicate that these licensees and their business associates were operating contrary to Alderney legislation. The nature of the findings necessitated the taking of immediate action in the public interest.

The venue and date for the hearing will be announced in due course.

Issued by:

André Wilsenach (Executive Director)

Alderney Gambling Control Commission

Alderney,

Channel Islands

Date issued: 29th June 2011"
I en separat pressemelding har AGCC kommet med:
"The above named companies must, until the Suspension Notices are cancelled or the Commissioners of AGCC have reached a determination at the conclusion of the hearing convened in accordance with Regulation 46 of the Alderney eGambling Regulations, 2009 cease to exercise their eGambling licenses.
Dette betyr at lisensene for følgene virksomheter må oppføre fra i dag er:
Registrering av nye kunder
Innskudd fra nåværende kunder
Utbetalinger av penger som spillerne har på sine kontoer
La spillere delta i pokerspill eller gambling relaterte spill
Alderney Gambling Control Commission vil avholde en høring torsdag den 26. juli kl 10:00 ved Victoria Park Plaza Hotel, 239 Vauxhall Bridge Road, London SW1V 1EQ
André Wilsenach, Executive Director of the AGCC sier følgene:

"The decision to suspend the eGambling licence was in the public interest and, because of the seriousness and urgency of the matter, it required that immediate action be taken ahead of the regulatory hearing."
Til nå er det ikke kommet noen uttalelser fra Full Tilt Poker, bortsett fra en banner hvor det står:
"Scheduled Maintenance In Progress - The system is currently down for maintenance. Please check back soon!"


Her er en nyhetsmail fra Moneybooker som PokerNews mottok onsdag:

As a Moneybookers customer, you already know you are the most important part of our business. We always make sure you receive the safest service.

For this reason we have stopped accepting deposits made to Full Tilt Poker.

There are extraordinary circumstances behind this situation which are beyond our control. We will not comment on these, just take appropriate action that protects our customers. We have requested that the Moneybookers logo be removed from Full Tilt Poker, but cannot do any more to make sure it is not displayed. Moneybookers is no longer available from Full Tilt Poker, and you will receive an error message if you attempt to use our service there.
Dette er en stor nyhetssak og PokerNews vil gi deg hele utviklingen i saken, når det skjer.
Onsdag 9:13 a.m. PDT: Isle of Man Gaming Commission sin pressemelding.- http://www.gov.im/gambling/
The Isle of Man Gambling Supervision Commission gjør det klart at statusen til PokerStars sin lisens i Isle of Man er uendret som følge av pressemeldingen fra Gambling Control Commission i Alderney. Alderney er seperat domsmyndighet fra Isle of Man og dette skiller dem fra PokerStars. PokerStars fortsetter sin virksomhet med sin lisens fra Isle og Man og fortsetter å utbetale penger til sine spillere, inkludert amerikanske spillere som PokerStars ikke tilbyr pokerspille med penger til.
Onsdag 9:20 a.m. PDT: PokerStar kom med en pressemelding vedrørende spillerne sine penger og sin virksomhet:[qoute]
s issued press release regarding player funds and its operations:
In light of today's news that Alderney Gambling Control Commission has suspended Full Tilt Poker's license, PokerStars wishes to assure our customers that their funds are completely safe and that our operations are completely unaffected. The Isle of Man Gaming Commission today reaffirmed that PokerStars' worldwide licensing is intact and that our operations are in full compliance with all of its requirements. PokerStars' online operations continue as normal and all funds in players' accounts are safe and available for withdrawal as usual with no delays.
PokerStars also remains in full compliance with our licenses in other jurisdictions where we are regulated, including France, Italy and Estonia.
As provided under our licensing, PokerStars has always maintained the integrity and security of our players' funds, by keeping all such funds in segregated bank accounts, always available for immediate withdrawal.
Since the actions of US Department of Justice in April, we have returned more than $120 million to US players and continue to act upon requests as they are received. Players outside the US have not been affected and all cash-outs have been processed without delays. Further, PokerStars entered into an agreement with the Department of Justice which expressly confirmed the company's ability to operate outside the US.
We will continue to operate as a responsible corporate citizen and are committed to serving the needs of our customers in complete compliance with our regulatory requirements. [/qoute]
Dette er en stor nyhetssak og PokerNews vil gi deg hele utviklingen i saken, når det skjer.