U.S. Attorney General snakker om poker ved DOJ høringen

Per-Kristian Arnesen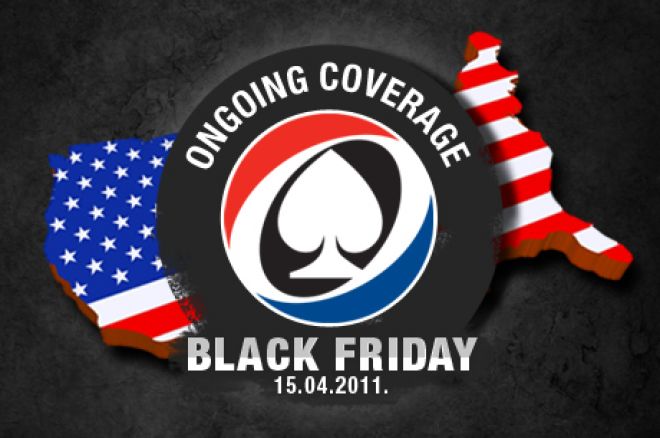 Attorney General Eric Holder[/B] ble nødt til å svare på tiltalene fra til U.S. Justice Department's mot onlinepokeren tirsdag, ved høringen ved DOJ - Department of Justice som ble avholdt av House Judiciary Committee.
"It was important that some members raised concerns about the DOJ policy as it relates to Internet poker," said John Pappas, executive director of the Poker Players Alliance, who attended the hearing along with about 30 PPA employees and members. "We can't say that, because of this hearing, this domino will fall. It's another step forward in an ultimate progression to get licensed and regulated Internet poker. Some good questions were raised about the priority of this administration. But we won't see results tomorrow. It will have to build over time."
Der var uklart om høringen skulle ta opp poker som en sak av medlemmene av komiteen. Takket være innsatsen til PPA - Poker Player Alliance og deres medlemmer som har oversvømt de deres offentlige kontorer med E-poster og telefonsamtaler, ble poker tatt opp 3 ganger.
Etter en treg start hvor Holder rett og slett fliret av spørsmålet fra Rep. Bobby Scott (D-Virg.) om poker var et lykkespill eller er et ferdighetsspill, han svarte med wouldn't answer the question because it was beyond his capabilities, Holder ble stilt en rekke spørsmål av Rep. Steve Cohen (D-Ten.).
Cohen spurte om Phil Ivey bare hadde flaks . Holder innrømmet at poker hadde noen grader av ferdigheter. Cohen spurte om han vikelig tenkte at dem skulle tilbringe masse tid til å gjøre en avtale med poker på internett, og Holder svarte raskt med the company line:
"We have to enforce the law as it exists. There are laws on the books in regards to Internet gambling that we have to enforce. We recently announced an action by the Southern District of New York. It is for Congress to decide what the law is going to be, and then we will enforce those laws."
Cohen lot ikke Holder slippe unna og sa følgene:

"I agree with you generally. I understand that there were civil rights laws in the 40s and 50s that the government had to defend, and then maybe 10, 12, 15 years later after Thurgood Marshall's arguments and the courts agreement, that they realized those laws weren't valid and the laws changed. ... There's certain laws and, even though it's the law Congress passed, there's a cultural change and the people's perception changes."
Cohen gjorde sitt poeng klart og fulgte opp med spørsmålet:
"Don't you think that maybe, in the priority range, Internet poker would be down at the bottom of the level beneath obscenity, hardcore pornography and child rape, and things like that?"
Holder svarte med det er forskjellige ting som DOJ er ansvarlige for, og at han trodde at saken om internett poker var passende på grunn av det er store penger som involvert og store Finansinstitusjoner.
Rep. Linda Sanchez (D-Calif.) kom med sin fremstilling ved å si recent indictments of Internet poker sites have had a significant impact on her constituents dette på grunn av at hun hadde hørt mye fra dem angående denne sak, noe som virkelig indikerer at innsatsen som er gjort av pokerspillere gjennom deres røster virkelig har gjort en virkning.
"I'm hoping that's an area you'll look at again in terms of where you dedicate your precious resources," Sanchez said. "I think time, in my humble opinion, would be better spent dealing with bigger and more serious, violent crimes for example, than trying to interrupt an industry which, as I said, has been efficiently regulated in a number of other countries."
Det var en stund en kontorvers i forkant av høringen, da PPA medlemmer ble fortalt at de ikke kunne bruke T-skjortene med teksten "Poker is not a crime" som PPA hadde gitt dem, da logene og skriften ikke var tillat inne under selve høringen. De løste dette ved å vrenge de røde T-skjortene. Men Committee Chairman Lamar Smith instruerte politiet til å nærme seg borgerne og ba dem om å fjerne T-skjortene. Medlemmene fra PPA svarte da med å bytte tilbake til T-skjortene de kom med først
Pappas er sikker på at dette ikke vil bli den siste gangen Holder hører fra medlemmene fra kongressen og det offentlige, i saken om DOJ sin fokus på internett poker.
"I think one of the things that will happen from this hearing is that a number of members of Congress spoke to us after the hearing and said they intend to follow up with questions to Holder on this matter," Pappas said. "Some were not able to ask a question or were dissatisfied with his responses. One only has to look at his Facebook page over the last few weeks, as well as the thousands of emails and phone calls his office has received from upset poker players, to realize this is a movement and a concerned community that isn't just going to go away."