Pokernyheter - 21.april

Theodor Jensen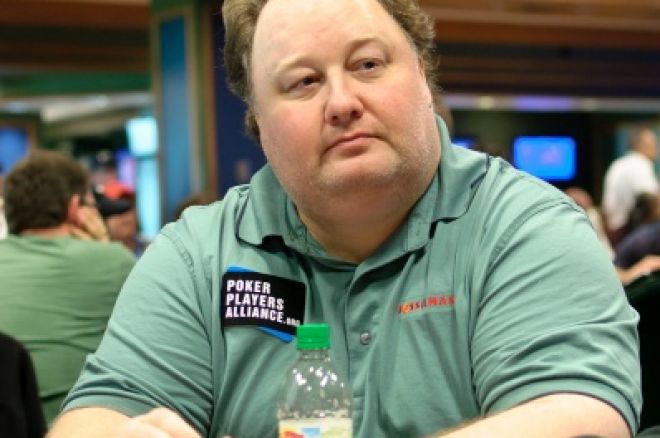 Leter du etter toppnyheter fra pokerverden rundt? Da bør du følge med nyhetene hos PokerNews Norge. I de siste dagers nyheter kan du lese om: Spesial utgave av SuperStars Showdown på søndag, Jamie Gold signerer en proffkontrakt, Greg Raymer diskuterer "Black Sunday" hos Fox Business og hvem vinner og taper ved high stakes bordene hos Full Tilt og Pokerstars.
Gikk du glipp av disse nyhetene?
Black Friday: Chad Elie og John Campos er blitt løslatt
Fredag den 15. April 2011 ble det utstedt en tiltale mot 11 personer innen de 3 største aktører innen online poker i verden. De tiltalte personene Isai Scheinberg, Raymond Bitar, John Campos og Chad Elie ble alle arrestert fredag.

PokerNews Podcast: Black Friday med Matthew Kredell
Hør PokerNews teamet som snakker med "legal expert Matthew Kredell" agående Black Friday i PokeNews sin siste Podcast.

Full Tilt og PokerStars åpnet .com sidene og pengene til spillerne er trygge. (OPPDATERT)
Full Tilt og PokerStars har nå tatt i bruk sine respektive .com sider igjen, men amerikanske spillere kan fortsatt ikke delta i pengespill. Derimot er det gjort en avtale på at amerikanske spillere kan få utbetalt sine penger.
Kahnawake Gaming Commission og Isle of Man har kommet med en stadfestelse angående Black Friday
Tirsdag 19.april 2011 kom Kahnawake Gaming Commission med en pressemelding angående tiltalene som "United States Department of Justice i Southern District of New York har gitt til de 3 største pokersidene
Ny utfordrer i SuperStars Showdown
Søndag kl 19:00 GMT er klart for nok en PokerStars SuperStars Showdown, Viktor Blom møter da MASTERMIXUS i en spesial utgave. Reglene er dem samme, 2 500 hender ved fire bord, men innsatsene blir mye mindre. De to vil spille på $5/$10, hvor hver av dem legger in $15 000 - MASTERMIXUS sin bankroll blir betalt av PokerStars og det han sitter igjen med etter utfordringen får han beholde.
Les mer hos SuperStar Showdown.
Det er pokerspillere som er offrene
WSOP mesteren fra 2004 Greg Raymer var på tirsdag gjest hos Fox Business hvor han diskuterte Black Friday.

"I don't think online poker is illegal under federal laws. The state of Washington has a law. The indictment has a discussion of New York state law, but based on the legal analysis that I've heard from other people who know a lot more about New York law than I do, this isn't illegal under that either," Raymer said.
He then went on to discuss that he believed poker is a skill game and the effect of the indictments and how it will impact players. "It's really just a money grab I think. I would estimate the Department of Justice and the FBI has literally put tens of thousands of man hours and therefore millions of dollars into their investigation leading up to this indictment. They could have spent all that time and money getting people who are actually doing evil in the world."
Se hele intervjuet under

Jamie Gold har fått seg sponsor

Black Friday? Ikke for Jamie Gold, som på onsdag har signert en multi avtale med Poker Pros Network. WSOP mesteren fra 2006 fra sier dette om signeringen:
"I have finally found a site I trust that accepts and supports both international and U.S. players," Gold said. "It has been years since I have been confident enough to play online and I'm very excited to finally have a home. I love the competition, from the smallest one dollar game to the highest stakes games, and welcome each and every poker player to the safest and most secure site — PPNpoker.com."
Gold blir nå med spillere som TJ Cloutier, Young Phan, Kevin Vandersmissen, Josh Brikis og andre spillere ved PPN sitt team.
"We've been careful and patient in waiting for the right person to captain our team of professional poker players. Now that our leader is on board we are strategically planning the next group of professionals that will include high profile celebrity friends of Gold. I believe we have an elite group of Pros that will attract players for every corner of the globe," sier PPN Poker CEO Chuck Kidd.
High Stakes Poker – Hvem er ned og opp?
Fra 15-18/4-11
Største vinnere:
Gus Hansen (+$604 000), NoPasaran (+$259 000), Wreed Platzak (+$134 000), *Ben "Sauce123" Sulsky (+$131 000)
Største tapere: Patrik Antonius (-$223 000), Lance84 (-$159 000), Ilari "Ziigmund" Sahamies (-$136 000), *Ilari "Ilari FIN" Sahamies (-$88 000)
Største vinner i 2011:
Gus Hansen (+$4 316 000), Daniel "jungleman12" Cates (+$1 952 000), *Gavin "gavz101" Cochrane (+$1 919 000), Matt Hawrilenko (+$1 440 000), bixiu (+$1 406 000), Phil Ivey (+$1 336 000)
Største taper i 2011
Tom "durrrr" Dwan (-$2 474 000), kagome kagome (-$1 919 00), fishosaurusREX (-$1 399 000), cadillac1944 (-$1 336 000), UarePileous (-$944 000), David Benefield (-$742 000)
* PokerStars