PartyPoker Big Game V og PokerNews Big Game = Suksess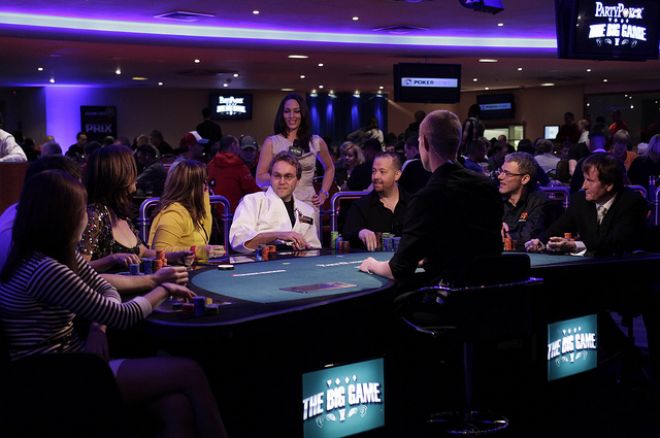 Fredag 15.april kl 19:00 GMT startet PokerNews live stream av PartyPoker Big Game V, som var et cash game avholdt ved Dusk Till Dawn i Nottingham, England. Ikke bare var programmer streamet direkte for seere i 48 timer, men PokerNews Big Game Interactive var en suksess og seere kunne delta i sendingen.
Hva inneholdt egentlig PokerNews Big Game Interactive?
Det interaktive live grensesnittet gjorde at seere kunne chatte om programmet, snakke med spillerne, spille i eksklusive kampanjer og ikke minst stemme ut spillerne som dem ville skulle forlate spillet. Kombinert med disse interaktive faktorer med en maraton av et cashlag kunne ikke poker bli bedre for seerne, som også hele tiden fikk se hva spillerne hadde slag kort.
Ved å kunne se den beste pokeren kunne ikke ha blitt laget uten en vanvittig bra hjelp fra PartyPoker og Matchroom Poker. Seerne hadde en fullstendig tilgang til kortene hos spillerne, topp grafikk og TV kommentering fra. Gjennom sendingen var det flere side kommentatorer for analyser og fargefull kommentering sammen med Jesse May.
Barry Carter snakket med Eddie Hearn, Managing Director of Matchroom Sport for å snake om suksessen med live stream sendingen:

To discuss the success of the live stream. "I think it's fantastic, I mean, we've always looked at streaming our events and we trialed it in a WPT. 'Over the moon' was the response from the poker community," said Hearn. When asked about the interactive element, here's what Hearn had to say.

"The interaction element is a must in this sort of thing. I just think, the event itself is a TV show and it's definitely the most interactive event of its time. And to stream it now, full jet out with the best players in the world, poker fans get to watch every single hand and I think that's the beauty of it. You watch TV shows over an hour or two hours, after a while you think 'Well, I wonder what happened here.' Poker fans want to see everything, even if it's a raise-fold; they want to see the hands. To watch every hand over 48 hours and the level of play and the personality of these guys, it's ground-breaking.

"What I like about the mix of the votes is one time you're finding out what the players think and another time you're finding out what the public thinks. So you're getting that mix and I think that's quite interesting. I like the way they integrated with each other. Players want to get off a player who is maybe quite good, but quite tight and the fans might want to get off someone who is more a loud mouth, arrogant and annoying. So, you actually find out who's popular out there and I think a few people got a few shocks this week."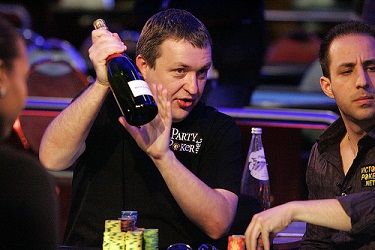 Gjennom hele live stream sendingen gjennom PokerNews, hundrevis av seere fulgte med og deltok i live chatten hvor de kunne se og faktisk være med å stemme ut spillere. I løpet av den 48 timers lange sendingen var det konstant aktivitet.
I løpet av de siste timene av sendingen på søndag var det over 3.400 seere i chatten og over 10.000 unike Chat meldinger. Begge disse tallene er utrolige og beviser at live streaming er den nye veien for live poker.
Blant deltagerne som deltok i det 48 timer lange cashlaget var Tony G, Annette Obrestad, Sam Trickett, Luke Schwartz, Dave "Devilfish Ulliott, Sam Trickett og Mike Matusow. Ved en av de største pottene utløste snakking som selvfølgelig TonyG stod bak da tre spillere var all-in.
Kristijonas Andrulis åpnet med en høyning til £150 før Rob Yong re-raised til £700 med


. Og Martins Adeniya synte med


og det var Tony G sin tur. Tony G annonserte at han var all-in, med en stack på ca £80.000 som dekte alle som var med i handen. Dette fikk både spillere og seere til å få opp øynene.
Det ble kast frem til Young som tenkte en stund før han fant synet og var all-in. Neste var Adeniya som brukte 5 minutter på å vurdere, mens Tony G snakket og snakket og håpet på at et til syn. Adeniya gjorde tilslutt synet og en pott var blitt bygd på over £63.000. Bordet viste





, Tony G med


vant potten.

Med denne potten og noen andre var Tony G den som vant mest penger i løpet av 48 timer. Han vant over £150.000.
Største vinnere

Som tidligere nevnt var det mye mer enn bare en Chat spillerne kunne involvere seg i. Inkludert var også eksklusive kampanjer som ett par PokerNews freerolls hos PartyPoker. I disse freerollene som ble spilt I løpet at the Big Game, lørdag deltok 1.356 og på søndag deltok 1.898 spiller, noe som er det største antall ved en PokerNews freeroll.
Etter at det 48 timers lange cashlaget var over, snakket Carte med May for å få hans ord på hvordan han opplevde cashlaget. Selv om hadde bare en liten sovepause i løpet av 2 dager, stilte han villig opp for å si sin mening:

"This is what poker can be. We've all been excited for about ten years for poker and hole cards and poker on TV, but the drama. Poker is not just a technical game, the drama of a reality show over 48 hours, to me, it's like you're just there. You see not just the hands, but everything that builds up to it. I just think there were so many great stories that went on. It just gives toy so much energy to watch it. It's been a great two days. And then the atmosphere — you can't give up that Dusk Till Dawn was the venue for this. The vibe in here, even among the people. You know, people have been saying that, well, poker's not a great live audience thing, but this was. This was a live audience thing and this is poker as a sport."
Med denne suksessen fra PartyPoker Big Game live stream og PokerNews Big Game Interactive, er et bevis på at dette er den beste måten til å se poker på. Og at dette er kanskje fremtiden for TV poker og vi vil se mer av slike sendinger i fremtiden.