PokerNews Strategy oppdatering: Nano vinner $200 rebuy og enda mere PLO!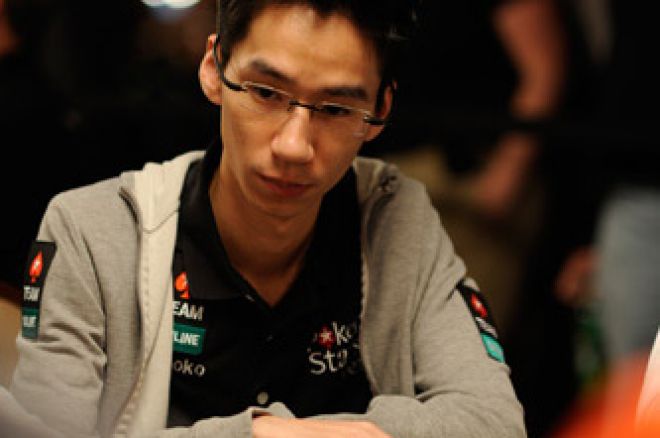 Mens resten av gjengen bruker tiden på å komme seg etter deres tur til Miami, har vi tatt en titt på en leser som kommer med en stor takk til oss, flere fantastiske videoer og Randy Lew vinner stort- alt dette i PokerNews Strategi oppdatering.
En stor takk til PokerNews strategy team
Hos PokerNews Strategi vil gi gjerne oppfordre medlemmene og delta så mye som mulig.
Vi gjør de videoer dere ber oss om og besvarer deres spørsmål i forumet.
Det er derfor det er så hyggelig å få denne forum posten fra mrfisher111, som er av de ivrigste personer i forumet:
Just wanted to thank all the pros on here for all there help. Especially randy since i decided to try to profit using his style. I'm not 12 tabling but I'm 4 to 5 tabling constantly switching gears. over last 25 k hands I'm about 18bb/100 and what he tells you works. The biggest problem i had was tilting. I'd lose a little bit id have to win it back. No longer am i like that. I realize we all will lose doesn't matter how good you are just poker full of variance especially online . So i learned to walk away a loser if I'm running bad or take a bad beat I just leave. If anyone on here wants to win in cash you have to control yourself from tilting. It took me more practice of controlling that then anything. Honestly this is an easy game to profit from if you can control your tilting. I am noticing that now. And bank rollling your money right. If you can't do that you can't profit this doesn't matter how good you are. That's the key.
So i just came on to say thanks cause i can do this for a living and don't have to work anymore this is my work now. It's amazing how all the hard work you put into it will pay off but its like going through hell to get there. Now i know exactly what to do in every hand, against a certain type of player, based on my position, whether they won or lost, al these things run through my head automatically now where it's like my instincts tell me what to do. Really weird but I'm like a human computer now thanks to poker strategy! thx for turning me into a computer But to all the members you have to play a ton of hands to get good. That's another very important thing putting in hrs every single day that's what gives you instinct on what to do. Sometimes i make 0 mistakes and i still lose so minimizing mistakes very important.
Dette gjør bare dagen fullkommen og har du noe å kommentere på PokerNews Strategy, dårlig eller bra, så vil vi høre dette i vårt forum.
Nanonoko vinner $200 rebuy hoson PokerStars
Randy 'nanonoko' Lew har vært veldig opptatt med nettpokeren.
De som følger hans blogg, vet at han har lagt mye tid inn i MTT siden sommeren og det har betalt seg mye.
Han har tatt ned/vunnet $200 rebuy hos PokerStars for $37.582.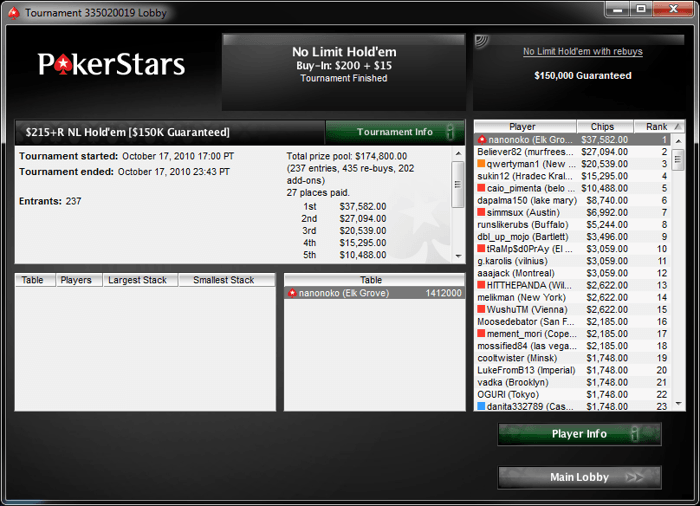 "The 200r is one of the toughest line ups on Pokerstars so this is a pretty big accomplishment given how much time I've put in since June when I started putting in a lot of time into MTTs. It's nice to come back from vacation and immediately put in a great session which brings me to the point that sometimes it's best to take a short break or something to entertain yourself so that your mind can reset and come from a fresh start!"
Nye videoer denne uken
Flere Pot Limit Omaha for dere denne uken Josh "LitleBastrd" Tieman er tilbake med en $0.50/$1 6 max PLO session, med fokus på hvordan vinne i lav til medium nivået ved PLO spillene.
Den etterlengte del 2 av Mark "goshmr5" Goshdigian's 'Thoughts With Scott' serien er her.
For dere som ikke vet hva det er, så er det en unik video hvor Mark studerer noen cash games hånd historier fra hans venn Scott, som gjør overgangen til SNGs.
Denne videoen er knall bra, da den setter deg i Scott sin posisjon som klatrer oppover i cashgames i poker.
Denne uken Kane "Nascar_1949" Kalas tar deg gjennom prosessen, når han spiller 6 max $5/$10 og $10/$20 hos både PokerStars og Full Tilt Poker.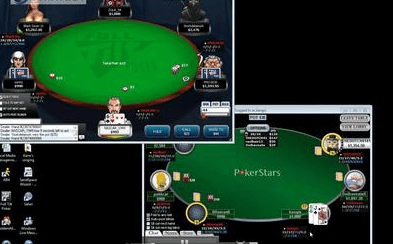 PLO PLO PLO
Vi sier det så mange ganger som det trengs, vårt PLO forum er det beste på nettet.
Uke etter uke blir hver hand historie analysert av vår topp proff spilelre som inkludererScott 'URnotINdanger2' Palmer og Josh "LitleBastrd" Tieman.
Denne uken har Josh hvert opptatt med å svare på forum poster, så post din nå!
[I]Ikke bare har PokerNews Strategy noen av de beste nett spillere, vi har nylig lagt til "Mindset Coach Jamie Glazier" og Lock Poker proffene til vårt stadig voksende stall av poker taltenter.