WSOP - Sam Farah vant Event #25: Omaha Hi-Low Split-8 or Better World Championship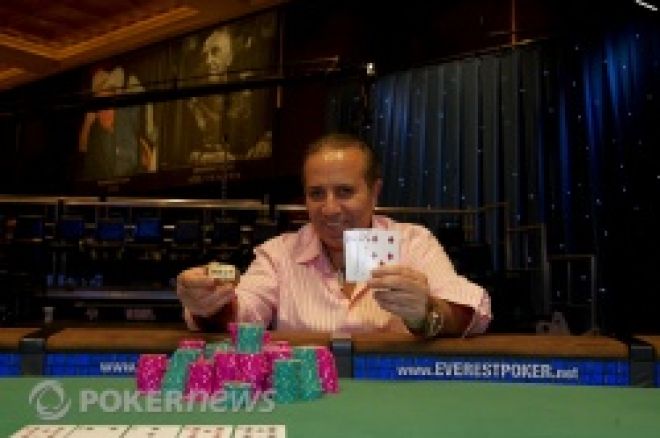 Event #25: Omaha Hi-Low Split-8 or Better World
Innkjøp: $10.000
Vinner: Sam Farah
1.Premie: $488,241
Vinner hand:





Totale premier: $1,992,800
Deltagere: 212
Norske deltagere: Ingen
Den avgjørende handen.
Etter å ha tapt forrige hand, James Dempsey fikk siste rest av sine 200.000 i chips i midten med




, Sam Farah hadde ikke noen bedre hand, men synte med




.
Farah og Dempsey ventet bare på det som akkurat skulle skje til slutt.
Floppen viste



.
"That's not a good flop for me," sa Farha. Han fikk ett par i 4, men Demspey hadde alle mulige drag for å forbedre handen sin.
Turn var

.
"That's a good turn for me," sa Farha. "A queen would be ok on the river."
På river kom det ingen dame, men en tredje tieren

.
Både Farah og Demspey hadde begge tre tiere, og Farah med


vant så vidt over Demspeys


.
Når Farah forstod at han var vinneren, gikk han opp på stolen, og srtakte ut hendene sine for jublet for seiren.
Dempsey en slagen man etter å ha kjempet lenge og hardt, men kom til kort mot den nå tredoble Bracelets vinneren Sam Farah, men kunne forlate turneringen med høyt hode og $301.790 dollar rikere for 2.plassen.