Kai Danilo Paulsen nr i 7 APPT Macau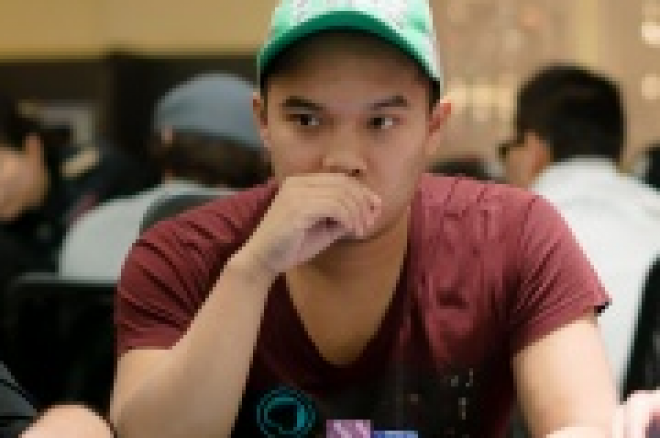 Finale bord - oppdatering fra Pokernews.com
Jeppe Drivsholm raised under the gun to an unknown amount and then Chong Cheong flatted from the next seat. Action folded to Kai Paulsen in the big blind and he moved all in for around 500,000. Drivsholm then reshoved all in and Cheong got out of the way.
Drivsholm held the



and was dominating the


of Paulsen.
The flop gave little hope to Paulsenw when the



fell. Only one spade was available and not much else except for a backdoor straight draw to save Paulsen from the tournament. The turn card left him drawing dead when the

fell and the river finished off the semantics of things with the

.
Paulsen went out in 7th place, taking home a nice payday for his efforts while Drivsholm bumped himself back up to about 1.12 million.
Pokernews vil komme med en intervju med Kai Danilio Paulsen om noen dager, hvor Kai bla kan fortelle om APPPT turneringen i Macau og mye annet.
Dag 3:
Oppdatert 15:46
Kai Danilo Paulsen spiller finalebordet i APPT tuneringen i Macau.
Han er nr 5 i chips med 520.000, mens Cole Swannack leder med 1.262.000.
Les mer om dag 3 på PokerNews.com live oppdatering her.
Oppdatering 13:21
Det er 12 spiller igjen av APPT Macau og det er middags pause nå.
Kai ligger som nr 5 av 12 spillere, og et finalebord i morgen bør være innen rekkevide nå.
Cole Swannack 1,152,000
John Chong 1,000,000
Jeppe Drivsholm 905,000
Kenny Nielson 710,000
Kai Paulsen 695,000
John Chong 621,000
Brian Green 520,000
Victorino Torres 465,000
Albert Kim 418,000
Samuel Aronov 360,000
Oppdatert 09:20
Kai spiller på 705 000 etter siste chip counts og er nr 2 av 21 spiller igjen.
Følg live oppdateringen fra PokerNews.com her.
Dag 2 er nå ferdigspilt, Kai Danilio Paulsen ligger som nr i chips etter endt dag 2 med 416 800 chips, leder gjør TJ Voraoanich fra USA med 472 900 chips.
Kai oppsummerte dag 2 på sin vegg på Facebook slik:
tyty all. was playing solid and agg and built my stack up. then i hit jackpot on flop vs two bigstacks in two hands that made me chipleader. and built my stack further.
Live oppdateringen fra PokerNews.com
Paulsen Hits the Jackpot
Kai Paulsen raised to 6,000 under the gun, and Julian Powell called from the next seat over. It was just the two of them to the



flop. Paulsen bet out 8,500, and Powell slowly made it 23,000. Kai doubled the bet, making it 66,000. No more playing around for Julian, who four-bet shoved. Paulsen snap called, showing that his


had flopped a set. Powell was mighty unhappy just to be holding


. "And I slow played it perfectly, too," he lamented. The turn brought the

, giving Paulsen four to a flush and leaving Powell with one out. It didn't appear, and his tournament is done while Paulsen's is just beginning. He's taken over the chip lead with 420,000.
Live oppdateringen fra PokerNews.com:
From early position, Ramon Cserei raised to 5,000. Action folded all the way around to Kai Paulsen in the big blind. He was the last to act preflop, but gave Cserei some action with a call.
The two players took a paired flop of



.Paulsen checked and Cserei fired a continuation bet of 8,000. Paulsen then check-raised to 18,000, wanting to play for more. Cserei took only a brief few moments and then announced that he was all in. With a big sigh, Paulsen made the call. He was calling off his remaining stack of just under 100,000 so this pot was crucial to his tournament. It was also massive.
Paulsen tabled the


for trip sixes. He had out-flopped the


of Cserei. Cserei would need to find a jack on the turn or river or he'd be out a massive chunk of his stack.
The turn brought the

and was no help to Cserei. The river completed the board with the

and once again, no help for Cserei. He was knocked all the way down to just 30,000 chips after sending over the money. Paulsen now has over 200,000 chips and has catapulted himself to one of the top spots on the board.
Kai Danilo Paulsen startet i dag på dag 2 som rundt nr 40 i chips.
160 spillere er igjen av PokerStars APPT Macau og Kai spiller på 61600 i chips.
Darren Judges startet dag 2 som chipleader med 173800 i chips.
Pokernews kommer med oppdateringer med hvordan Kai spiller i dag 2 av PokerStars APPT Macau.
Det er 40 plasser som gir premie, hvor 1.plass gir ca $416,000 USD
Følg PokerNews.com sin live oppdatering av APPT Macau her.
Last ned å ta del i promotilbud via PokerNews.
Last ned PokerStars idag!
Besøk vår Facebook side.