Freddy Deeb vant €20.000 High Roller turneringen i Paris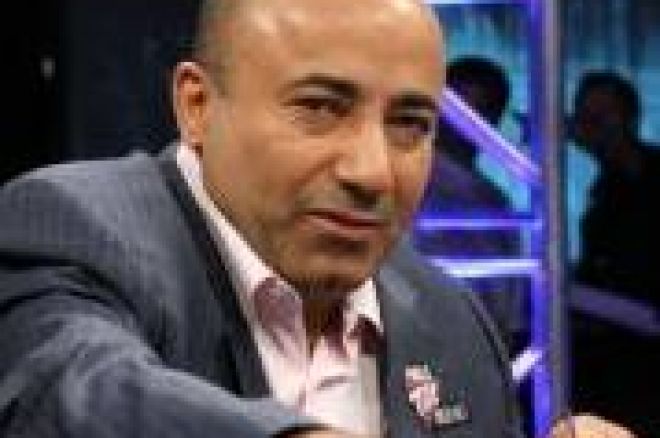 Det var veteranen og poker proffen Freddy Deeb, kjent fra bla high stakes poker serien som stakk av med seieren i ACFpoker €20,000 No Limit Hold 'em High Roller Freeze Out tournament i WPT Grand Prix de Paris denne helgen.
Freddy var nr 2 på finalebordet hvor 24 spillere stilte til start med bla Bruno Fitoussi, Andrew Feldman, Antony Lelouche, Roger Hairabedian og Sorel Mizzi.
Det var Freddy og Sorel Mizzi kom spilte heads up for turneringen og tittelen, hvor Freddy vant med Ess-Dame hvor Mizzi hadde Ess-konge.
Freddy sa etter seieren: "I cannot believe I came back,"
"He kept making me call, but I changed my game and got a bit of a break."
Freedy vant tittelen og €290.000, mens Mizzi kunne legge til €120.00 på hans turnerings gevinst så langt i år på $1.3 millioner.
Freedy som har to WSOP – World Series of Poker bracelets og to WPT titler har nå vunnet mer enn $7.1 millioner i sin turnerings karriere.
Andrew Feldman, Antony Lelouche and Roger Hairabedian.
Bruno Fitoussi, som forøvrig representerte Aviation Club de France hvor turneringen ble avholdt.
Uttalte etter tureringen følgene:
"Congratulations to Freddy,"
"Sorel Mizzi has been on an unprecedented run tearing up the online and offline felt. He's the man to beat in poker at the moment and if I had to pick someone to do it, Freddy Deeb would be very high up on that list."

WPT-main event turneringen som ble avholdt i Paris ble vunnet av dansken Theo Jørgensen.
Les mer om det her.
Vil du spille på Party Poker, og kvalifisere deg til neste WPT turnering?
Last ned å ta del i promotilbud via Pokernews Norge
Last ned Party Poker i dag.