Betfair Poker gir ut fem BalkanPokerNews Challenge Feriepakker til våre spillere!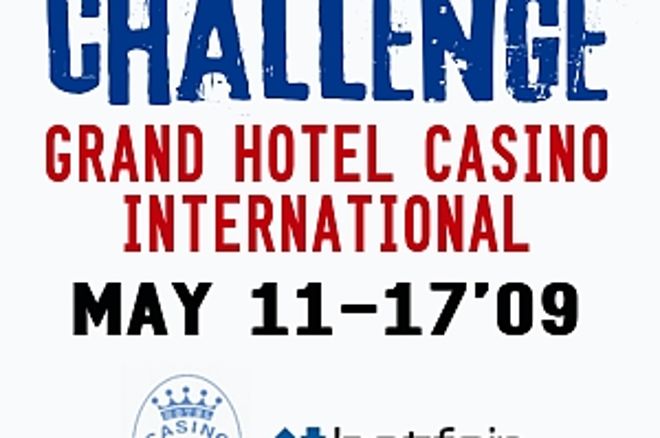 The BALKANPOKERNEWS CHALLENGE blir i år arrangert i Bulgaria fra den 11. mai til den 17. mai. Vi har gleden av å annonsere vårt samarbeid med Betfair Poker for å kjøre online satellitter til denne eventserien!
I år vil BalkanPokerNews Challenge inneholde fem utrolige turneringer som vil bli meget underholdende for spillerne å delta i. Årets utgave av BalkanPokerNews Cup 2009 il bli arrangert på Grand Hotel Casino International i Varna. Main Event har en premie med garanti på minimum utrolige EUR 100,000!
The BalkanPokerNews Challenge er ment for å trekke til seg pokerspillere fra hele Europa med mye aktiviteter og utfordringer i spillet inne på casinoet, og ikke minst beliggenheten av casinoet som ligger som en perle ikke langt fra Svartehavet.
Hver pakke fra Betfair Poker til Balkanpokernews Challenge er en feriepakke og har Verdi på $2,300 og vil inneholde:
• €800 – Main Event Buy-in
• €250 – Fem netter opphold (13. – 17. mai)
• €450 – Reisepenger
Betfair Poker kvalifiseringsskjema
6th – 19th April Satellite Schedule
What: Balkan Poker Challenge Daily Sat to Final
Date: Daily at 21:10 (UK)
Buy In: $10+$1
Prizes: 1 Seat to Final (2 Seats on Sunday)
What: Balkan Poker Challenge Rebuy Sat to Final
Date: Daily at 19:45 (UK)
Buy In: $5+$0.50 Rebuy
GTD: 1 Seat to Level 2 (2 Seats on Sunday)
20th – 26th April Satellite Schedule
What: Balkan Poker Challenge Daily Sat to Final
Date: Daily at 21:10 (UK)
Buy In: $10+$1
Prizes: 1 Seat to Final Mon – Wed, 2 Seats from Thurs to Sat & 3 Seats on Sunday
What: Balkan Poker Challenge Rebuy Sat to Final
Date: Daily at 19:45 (UK)
Buy In: $5+$0.50 Rebuy
GTD: 1 Seat to Final Mon – Wed, 2 Seats from Thurs to Sat & 3 Seats on Sunday
Balkan Poker Challenge Final
When: Sunday 26th April at 20:00 (UK)
Buy In: $100+$9
Prizes: 5 Packages worth $2,300 each
Dagens Tips: Registrer deg gjennom PokerNews og få muligheten til en fin bonus på opp til $1500 hos Betfair Poker