EPT Praha dag 1a og 1b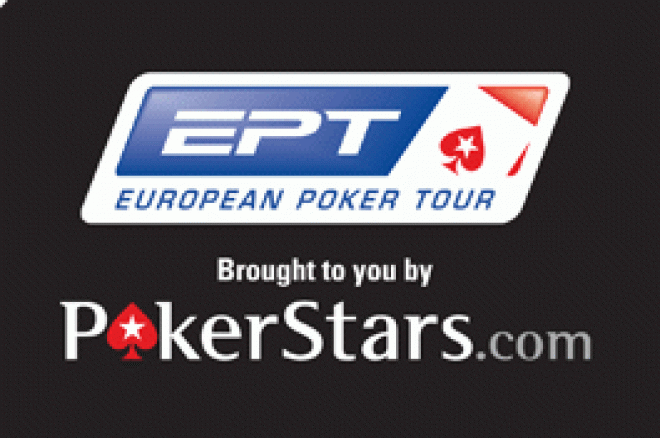 Årets siste Pokerstars.com's European Poker Tour er i gang på Hilton Prague Hotell i Praha, og begge startdagene er nå ferdigspilte. Praha kom inn på EPT kartet i fjor og ble en stor suksess, og det var store forventninger foran denne stoppen. 2007 brakte 555 spillere til bordene og i år ble det ny rekord med 570 spillere.
16 norske spillere kom til start de to første dagene i Praha, og nesten som sedvanlig så er det Johnny Lodden som ligger best an av de norske etter startdagen. Johnny endte på 34,800 chips med Ørjan Holt som nest beste nordmann med 27,000 chips. De andre fem som gikk videre ble Roger Johannessen med 16,000 chips, Anders Arntzen med 14,600 chips, Geir Torsvik med 10,400 chips, Bjørn Andre Hovden 9,400 og Erlend Melsom med 8,600.
Svenske Christer Johansson leder sammenlagt når de to første dagene er slått sammen med 108,100 chips i stacken. Manuel Bevand fra Frankrike er på andreplass med 97,200 og italieneren Alessio Isaia på tredje med 95,300 chips. Johnny Lodden ligger sammlagt på cirka 70 plass i turneringen.
Når dag 2 starter er det 177 spillere som setter seg rundt bordene, og 56 av disse vil reise fra Praha med en premie. Den som reiser vekk med den største premien får €774,000 av den totale premiepotten på €2,764,500.
Det er fortsatt lang vei frem til premieplassene og de store pengene i denne turneringen, men under her kan du selv lese listen over de spillerne som starter dag 2 (listen er kopiert direkte fra pokerstars.com):
Christer Johansson Sweden 108,100
Manuel Bevand France 97,200
Alessio Isaia Italy 95,300
Ludovic Lacay France 94,200
Fredrik Nygard Finland 86,400
Mikhail Tulchinsky Russia 81,400
Niko Hanninen Finland 73,100
Dan Pedersen Denmark 71,200
Constantin Cirstea Romania 69,500
Lukas Gideon Schwartz Orbach UK 69,200
Vasilis Chantzaras Greece 67,700
Dario Minieri Italy 64,400
Joris Jaspers Holland 63,700
Jose Luis Navarro Spain 63,500
Philip Hepburn UK 62,500
Allan Baekke Denmark 62,300
Henrik Lundstrvm Sweden 60,500
Roy Von Der Locht Germany 58,300
Constandinos Alexiou Greece 56,600
Sorin Posa Romania 56,300
Raul Mestre Spain 55,900
Mika Puro Finland 55,700
Rocco Pandiscia Italy 54,900
Sebastian Ruthenberg Germany 54,000
Rifat Palevic Sweden 53,900
Daniel Biro Hungary 52,000
Oskar Silow Sweden 51,100
Jens Glud Hansen Denmark 51,000
Jose Luis Valero Lopez Spain 51,000
Phidias Georgiou Cyprus 50,400
Martin Jacobson Sweden 50,300
Roberto Romanello UK 50,100
Peter A Hedlund Sweden 49,700
Seth Eisner USA 49,600
Petter Pettersson Sweden 49,100
Marcel Baran Germany 48,900
Andreas Eiler Germany 48,900
Marcin Jan Jedruch Poland 47,400
Antonio Illiano Italy 47,200
Shander De Vries Holland 47,100
David Dagniere Italy 46,900
Soren Konsgaard Denmark 45,700
Joao Barbosa Portugal 45,400
Jonathan Duhamel Canada 45,000
Charbel Al Chagoury Greece 44,700
Guy Tomaselli France 43,700
Benjamin Mirsaidi Germany 43,700
Leonidas Androutsos Greece 43,300
Mats Iremark Sweden 42,900
Dado Filipovic Croatia 42,900
Andrea Venturi Italy 42,600
David Sonelin Sweden 41,400
Petr Masojidek Czech Republic 40,800
Dino Dinler Finland 40,600
Alexis Zervos Greece 40,200
Mika Paasonen Finland 40,000
Julien Hurault France 39,600
Lars Johan Persson Sweden 39,600
Andrea Benelli Italy 39,500
Charbel Salloum Lebanon 39,200
Alexander Andermatt Switzerland 39,000
Erich Kollmann Austria 38,900
Haward Speer Germany 38,000
Alfredo Cioccoloni Italy 36,900
Jorge Luque Spain 36,900
Martial Blangenwitsch France 36,700
Gianluca Speranza Italy 36,400
Nasr El Nasr Germany 36,300
Brian Jensen Denmark 35,100
Bernard Boutboul France 34,800
Johnny Lodden Norway 34,800
Henri Kettunen Finland 34,700
Daniel Mangas Spain 34,600
Sven Casel Luxenbourg 34,000
Pavel Blatny Czech Republic 33,700
Milan Kojnok Slovakia 33,500
Christophe Haller Austria 33,300
Laurent Novi France 32,800
Adam James Stoneham Ireland 32,600
Razvan Negreanu Romania 32,600
Juha Helppi Finland 32,100
Ian Nelson UK 31,500
Steven Van Zadelhoff Holland 31,000
Martin Vallo Denmark 30,600
Tome Moreira Portugal 30,500
Mikael Johansson Sweden 30,300
Gino Alacqua Italy 29,600
Voitto Rintala Finland 29,200
Peter Cizmarik Slovakia 29,000
Phulippe Bara Carlier Belgium 28,500
Georgios Gatselos Greece 28,000
Nikolaos Panopoulos Greece 27,800
Salvatore Bonavena Italy 27,400
Andreas Krause Germany 27,100
Juan Manuel Pastor Spain 27,000
Orjan Holt Norway 27,000
Stephen Devlin UK 25,600
Yury Kerzhapkin Russia 24,900
Antony Elie Lellouche France 24,700
Alessandro Lusso Cagilari Italy 24,700
Climent Givry Finland 24,600
Mattias Andersson Sweden 24,000
Igor Rejdovjan Slovakia 23,900
Smith Collins USA 23,800
George Secara Romania 23,700
Martin Prusa Czech Republic 23,500
Christopher Moorman UK 23,300
Andrew Alan Chen Canada 23,200
Ville Haavisto Finland 22,500
Petr Samcenko Czech Rep 21,900
Danys Vashchuk Ukraine 21,900
Toni Gomez Ribera Spain 21,500
Marc Naalden Belgium 21,100
Iliodoros Kamatakis Greece 21,100
Jakob Eberg Sweden 20,800
Nikolaj Tsanev Bulgaria 20,500
Jose Miguel Espinar Spain 20,300
David Jaoui France 19,800
Helfried Bernhardt Germany 19,200
Jari Hautala Finland 19,000
Rob Sherwood UK 18,800
Mika Hallstrom Finland 18,700
Fabrice Lecrecq France 18,600
Riccardo Lacchinelli Italy 17,900
Domenico Iannonne Italy 17,700
Souhail Joseph Nassar Lebanon 17,600
Morten Lassen Denmark 17,500
Stephan Gerin France 17,400
George David Abdallah USA 17,400
Joseph Mouawad Lebanon 16,600
Xavier Laszcz France 16,500
Daniel Sandu Romania 16,400
Noah Boeken Holland 16,300
Roberto Machado Portugal 16,300
Francesco Cirianni Italy 15,900
Ojan Faramarzi Sweden 15,900
Roger Johannessen Norway 15,600
Claudio Cecchi Italy 15,500
Daniel Drescher Germany 15,000
Vikash Dhorasso France 14,800
Anders Arntzen Norway 14,600
Jonas Laschen Holland 14,600
Paulo Grossi Italy 14,200
Pawel Chmiel Poland 13,900
Machou Ghaouti France 13,400
Emanuele Rugini Italy 13,300
Massimo Di Cicco Italy 13,200
Alfonso Amendola Italy 13,100
Jussi Nevanlinna Finland 12,700
Juha Lauttamus Finland 12,200
Tomas Elexhauser Slovakia 12,100
Martin Olsson Sweden 11,300
Laurence Houghton UK 11,300
Joachim Baumann Germany 11,300
Juan Maceiras Spain 11,200
Tomas Brolin Sweden 11,200
Casey Kastle Slovakia 11,200
David Johansson Sweden 11,000
Donald Markwardt USA 10,900
John Riley USA 10,900
Richard Benton UK 10,600
Alessandro Longobardi Italy 10,500
Geir Berge Torsvik Norway 10,400
Obal Frigyes Hungary 10,300
Simone Rossi Italy 9,900
Attila Polner Hungary 9,500
Bjorn Andre Hovden Norway 9,400
Julian Herold Germany 9,300
Rene Baranek ? 9,100
Jeffrey Sarwer Finland 8,800
Rickard Holm Sweden 8,800
Erlend Melsom Norway 8,600
Fredrik Primelius Sweden 8,500
Stefan Mattsson Sweden 7,100
Massimiliano Patroncini Italy 6,800
Stefan Wittmoss Sweden 6,700
Senol Karahasan Turkey 6,500