Oppsummering fra dag 1a og 1b av EPT i Polen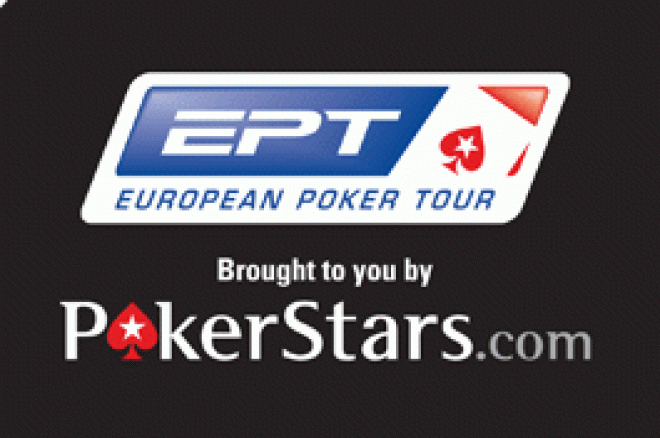 99 spillere på dag 1A og 118 spillere på dag 1B gjør EPT stoppen i Warzawa til tourens minst turnering med bare 217 spillere. Dag 1A hadde vi 2 norske spillere og 1B startet det seks norske. Men selv om det har vært forholdsvis få spillere til start, så har det ikke manglet på stjerner. På dag 1A stilte EPT vinneren fra Budapest Will Fry, Online sensasjonen Ilari "Ziigmund" Sahamies, EPT Live vertinnen Kara Scott, Gavin Griffin, vår egen Johnny Lodden, den polske popstjernen Michal Wisniewski og Antony Lellouche. Sistnevnte avsluttet dagen som chipleader foran Ludovic Lacay og Johnny Lodden. På dag 1B kom flere av pokerstars.com sine egne stjerner til start. Isabelle Mercier, Dario Minieri, Alex Kravchenko, William Thorson and Bertrand "ElkY' Grospellier samt seks norske spillere. Roland de Wolfe endte dagen som chipleader foran franske Alain Roy, dansken Christoffer Egmo og den italienske pokerstars-stjernen Dario Minieri på fjerdeplass.
De norske spillerne som er i Polen er Johnny Lodden, Andreas Hagen, Marius Grotan, Andreas Graue Berg, Thor Erik Higraff, Thomas Floan og Stephan Kjerstad. Dessverre er det bare 1 norsk spiller fra hver av de to startdagene som er videre til dag 2. Johnny Lodden ligger meget godt an med 41,450 chips på en niendeplass og Thomas Floan på 41. plass med 21,125 chips. Totalt er det 113 spillere som setter seg til bords senere i dag for å fortsette å kjempe om å komme inn på premieplasser og videre mot finalebord og seier i Polen.
Totalt er det 24 spillere som vil få premie i Polen, og de skal dele på premiepotten på 1,172,973 Euro. Fordelingen av premiene blir da følgende (den første summen er polske zloty og den andre summen er i Euro):
1. 1,358,420 367,141
2. 759,500 205,270
3. 455,700 123,162
4. 325,500 87,973
5. 269,080 72,724
6. 212,660 57,476
7. 169,260 45,746
8. 121,520 32,843
9. – 10. 78,120 21,114
11. – 12. 60,760 16,422
13. – 14. 52,080 14,076
15. – 16. 39,060 10,557
17. – 24. 26,040 7,038
18. 26,040 7,038
19. 26,040 7,038
20. 26,040 7,038
21. 26,040 7,038
22. 26,040 7,038
23. 26,040 7,038
24. 26,040 7,038
Her kan du også selv se listen over de spillerne som setter seg il bords for å spille dag 2 av pokerstars.com European Poker Tour i den polske hovedstaden:
Roland De Wolfe UK 67,150
Antony Lellouche France 57,600
Alain Roy France 50,950
Ludovic Lacay France 49,600
Christoffer Egmo Denmark 46,175
Dario Minieri Italy 43,975
Andreas Krause Germany 43,825
Sebastian Ruthenberg Germany 41,950
Johnny Lodden Norway 41,450
Bertrand Grospellier UK 41,425
Marco Fantini Italy 41,000
Sergey Shcherbatskiy Russia 40,950
Serguei Pomerantsev Russia 39,175
Brian Jensen Denmark 39,050
Victor Lemos Panama 37,675
Mark Teltscher UK 37,100
Michael Muheim Switzerland 36,875
Josh Gould UK 36,150
Atanas Stoyanov Gueorguiev Bulgaria 31,975
Peter Jepsen Denmark 31,400
Moises Parrilla Ramos Spain 30,650
Fabian Holling Germany 30,375
Nico Behling Germany 28,375
Arnaud Mattern France 27,675
Kenneth Paul Hicks Jr. USA 26,425
Benny Falkenstrom Sweden 26,275
Julio Pollan Spain 26,275
Isabelle Mercier Canada 25,950
Joao Barbosa Portugal 25,450
Nicolo Calia Italy 24,100
Brian Linnet Sweden 23,950
Patric Martensson Sweden 23,525
Nicolas Liakos Sweden 22,600
Ilja Savolainen Finland 22,500
Michal Piechowski Poland 22,500
Richard Gryko UK 22,250
Marcin Doliwa Poland 21,975
Michał Zaremba Poland 21,625
Juan Manuel Pastor Spain 21,400
Juan Maceiras Spain 21,300
Thomas Floan Norway 21,125
Johannes Strassmann Germany 21,025
Jacques Zaicik France 20,975
Mika Puro Finland 20,150
Gavin Griffin USA 19,925
Americo Spinozzi Italy 19,300
Bartosz Skorupa Poland 19,175
Kevin Macphee USA 18,975
Sandor Toth Hungary 18,900
Thomas Wolfer Switzerland 18,250
Katja Thater Germany 17,850
Gerrit Jan Van Hese Netherlands 17,550
Andrea Benelli Italy 17,250
Robert Kucharski Poland 17,250
Grzegorz Mikielewicz Poland 16,750
Hans Eskilsson Sweden 16,350
Laurence Houghton UK 16,100
Piotr Kopacki Poland 15,450
Mario Kuhl Germany 15,125
Sebastian Szuster Poland 14,850
Frederik Brink Jensen Denmark 14,750
Miguel Antonio Silva Aroso Portugal 14,400
Remy Biechel France 14,250
Alan Smurfit Ireland 14,000
Christophe Benzimra France 13,975
Espen Slavensky Denmark 13,450
Gunnar Klietsch Germany 13,350
Sven Leu Germany 13,250
Alexander Kravchenko Russia 13,150
Toni Ojola Finland 12,975
Dan Pedersen Denmark 12,700
Beniamino Speroni Italy 11,675
Andersson Mathias Per Gunnar Sweden 11,650
Csaba Toth Hungary 11,600
Nabil Bennour France 11,575
Nicolas Levi France 11,500
Stefan Rotach Switzerland 11,050
Dino Civano Dinler Finland 10,475
Michał Wiśniewski Poland 10,150
Raul Paez Spain 10,025
Bruno De Bari France 10,000
Philippe Taupin France 9,800
Pascal Perrault France 9,525
Stefan Hjorthall Sweden 9,150
Leszek Krawczyński Poland 9,125
Anthony Quinn UK 9,100
Eduard Kapitonov Russia 9,025
Aliaksandr Marchanka Belorus 9,000
Zbigniew Szczep Poland 8,875
Gino Alacqua Italy 8,850
Jerzy Hajdamowicz Poland 8,550
Marty Smyth Ireland 8,050
Uffe Holm Denmark 7,800
Stanisław Pardo Poland 7,750
Jonas Molander Sweden 7,700
Aditya Agarwal India 7,625
Michael Keiner Germany 7,575
Vayo Gordon Francis USA 7,550
Joseph Michael Serock USA 7,400
Krzysztof Tabaszewski Poland 7,150
Jaakko Lauttamus Finland 7,000
Vanessa Thobert France 6,125
Andrej Nagy Slovakia 5,600
Wojciech Frankowski Poland 4,600
Julien Lang Van France 4,150
Miroslaw Klys Poland 3,800
Dariusz Paszkiewicz Poland 3,625
Riccardo Mazzitelli Italy 3,200
Bekdas Sabri Turkey 3,075