Alt klart for dag 2 av EPT London - 3 norske med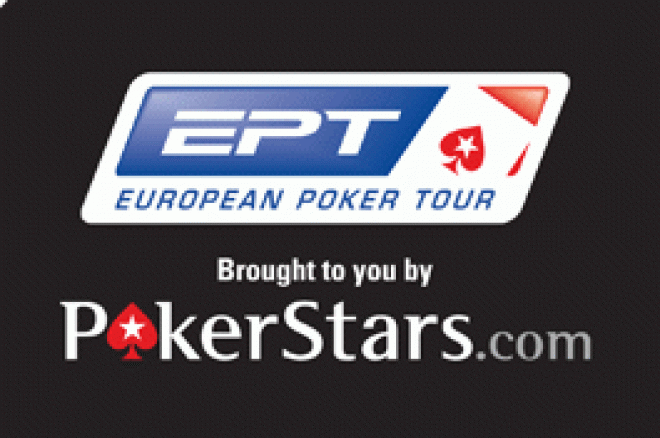 Selv om det aller meste av fokuset har vært på Empire Casino på Leicester Square i London og finalebordet av World Series of Poker, så skjer det andre ting også nettopp i London. På "The Vic" eller Victoria Casino på den motsatte siden av byen er European Poker Tour godt i gang og er ferdige med dag 1a og 1b på sin stopp i London. Og siden det har vært så mye poker i byen de siste dagene og ukene, ble det fullspekket med spillere også i dette eventet. På forhånd var det satt maks 500 spillere, men etter de to startdagene har hele 596 spillere deltatt, hvorav vi kan finne 14 norske i listene fra Pokerstars.com.
Men ingen av dagene ble noen store dager for de norske spillerne. Kun tre av 14 spillere er med videre til dag 2. Stephan Kjerstad, Sondre Horgmo og Frode Gjesdal er de som er med videre. Slått ut er Thor Hansen, Johnny Lodden, Henning Granstad, Annette Obrestad, Dag Martin Mikkelsen, Erland Melsom, Kristian Ulriksen, Andreas Høivold, Morten Klein, Jan Olav Sjåvik og Sverre Krogh Sundbø.
Helt i teten foran dag 2 finner vi to svenske spillere, Erik Sjødin og Axel Albertsson. De har begge over 100,000 i chips sammen med tre spillere til som er over den streken. Stephan Kjerstad er best av de norske med 30,800 chips. Det er midt i gjengen på 158 spillere som skal spille på dag 2. Sondre Horgmo har 22,700 chips og Frode Gjesdal har 22,300 chips.
Som nevnt så har det vært mange stjernespillere i London de siste dagene og ved en raskt kikk på listen over de som er videre til dag 2 i EPT London finner vi navn som; Max Pescatori, Sorel Mizzi, Gus Hansen, Greg Raymer, David Benyamine, Vanessa Russo, Barry Greenstein og Alex Kravchenko.
Dag 2 fortsetter i dag fredag på "The Vic" klokken 13:30 lokal tid. Her kan du selv se listen over spillere som er med fra starten av dag 2 og hvor mye chips de starter med.
1 Erik Sjodin Sweden 139,100
2 Axel Albertsson Sweden 122,200
3 Huseyin Yilmaz Turkey 121,300
4 Philippe D'Auteuil Canada 118,000
5 Mohammed Jaber Lebanon 101,500
6 Max Pescatori Italy 99,300
7 Liya Gerasimova Russia 97,400
8 Sorel Mizzi Canada 94,300
9 Maxim Kats Russia 92,800
10 Joao Barbosa Portugal 90,500
11 Carter Gill USA 81,600
12 Julian Thew UK 79,700
13 Javier Dominguez Spain 78,800
14 Antony Lellouche France 77,900
15 Bernard Roy France 76,900
16 Walid Rizkallah France 73,500
17 Gus Hansen Denmark 72,800
18 Michael Martin USA 72,200
19 Babbini Simone Italy 66,100
20 Alexander Roumeliotis Sweden 64,700
21 Jamie Roberts UK 64,000
22 Jeffrey Hakim Canada 62,600
23 Ian Frazer UK 60,700
24 Peter Eastgate Danish 59,700
25 Andrew Teng UK 59,400
26 Erik Friberg Sweden 58,400
27 Joseph Elpayaa USA 57,100
28 Atanas Gueorguiev Bulgaria 55,700
29 Panzeri Stefano Italy 54,500
30 Priyan Demel UK 54,500
31 Ali Sarkeshik Iran 54,300
32 Christopher Wolters UK 53,600
33 Soren Blanner Denmark 53,500
34 Christopher Moorman UK 52,900
35 Ramin Henke Germany 52,900
36 Eric Liu USA 52,300
37 Arnaud Mattern France 51,800
38 Theodoros Aidonopoulos Cyprus 51,400
39 Scott Montgomery Canada 51,300
40 Darrin Flint Ireland 50,300
41 Greg Raymer USA 50,100
42 Thuan Nguyen USA 49,100
43 Raphael Kampshoff Germany 46,800
44 Vicky Coren UK 46,700
45 Guillaume De la Gorce France 45,500
46 Tomas Macnamara UK 45,100
47 David Benyamine France 44,800
48 Beth Shak USA 44,400
49 Mohammed Zahour UK 44,100
50 Olof Holm Sweden 42,800
51 Phidias Georgiou Cyprus 42,700
52 Georges Moussa USA 42,700
53 Marcin Horecki Poland 42,500
54 Ran Azor Israel 41,400
55 Vanessa Rousso USA 40,300
56 Yaron Malki Israel 40,200
57 Neil Suarez Philippines 40,100
58 Beniamino Speroni Italy 39,800
59 Paolo Compagno Italy 39,500
60 Gicquel Youn France 39,200
61 Pascal Perrault France 38,900
62 Johannes Strassman Germany 38,600
63 Neil Channing UK 37,800
64 Marcello Marigliano Italy 37,500
65 Steffen Rasmussen Denmark 36,900
66 Christopher Jetten Canada 36,900
67 Jesper Höög Sweden 36,800
68 Gunnar Råbe Sweden 36,400
69 Michael Watson Canada 34,200
70 Evgeny Serebryakov Unknown 33,800
71 Daniel Albright Denmark 33,700
72 Ramzi Jelassi Sweden 33,100
73 Peter Smurfit Ireland 32,900
74 Robert Firestone USA 32,700
75 Peter Busch USA 31,900
76 Willie Tann UK 31,100
77 Stephan Kjerstad Norway 30,800
78 Mark Deacon UK 30,600
79 Michael Tureniec Sweden 29,500
80 Mick Cook UK 29,200
81 Jonas Molander Sweden 29,000
82 Per Mattsson Sweden 29,000
83 Toni Ojala Finland 28,600
84 Jean Bellande USA 28,600
85 Barry Greenstein USA 28,000
86 Hafiz Khan UK 27,900
87 Stephen Ladowsky Canada 27,900
88 Andres Kovacs Hungary 27,600
89 Sebastian Saffari UK 27,500
90 Rene Mouritsen Denmark 27,500
91 Fredrik Keitel UK 26,300
92 Franklin Diaz Venezuela 26,200
93 James Reid UK 25,800
94 Andrew Rees UK 25,700
95 Pier Ruscalla Italy 25,000
96 Denes Kalo Hungary 24,500
97 Gualter Salles Brazilian 24,300
98 Andre Johnstone South Africa 24,000
99 Paul Dack UK 23,900
100 Andre Akkari Brazil 23,700
101 Oscar Schweinbarth Germany 23,500
102 Chris Bruce UK 23,100
103 Tim Witte Germany 23,100
104 Tony Cascarino Ireland 22,900
105 Robert Willis Ireland 22,700
106 Kathy Liebert USA 22,700
107 Sondre Horgmo Norway 22,700
108 Christian Grundtvig Denmark 22,400
109 Frode Gjesdal Norway 22,300
110 Jerzy Hajdamowicz Holland 21,900
111 Isaac Haxton USA 21,400
112 Roland De Wolfe UK 21,400
113 Alex Kravchenko Russia 21,300
114 Joseph Mouawad Lebanon 21,100
115 Allan Baekke Denmark 20,900
116 Fuad Serhan Jordan 20,600
117 Davor Lanini Italy 20,600
118 Bruno Martin France 20,400
119 Charles Berreby France 20,400
120 Justin Truesdell USA 19,900
121 Timothy Pennington Unknown 19,900
122 Carlo Gabriele Italy 19,700
123 Thomas Fougeron France 19,600
124 Pasquale Braco UK 19,600
125 Michael Ellis UK 19,500
126 Nicholas Romanello UK 18,800
127 Isabelle Mercier Canada 18,400
128 Alexia Portal France 18,400
129 Florant Aubert France 17,800
130 Stephen Chidwick UK 17,700
131 Graham Pound UK 17,100
132 Brian Green Costa Rica 16,800
133 Alexander Jung Germany 16,800
134 Andrea Benelli Italy 16,300
135 Percy Ward UK 16,100
136 John Dwyer Ireland 15,900
137 Jonathan Heath UK 15,600
138 Yevgeniy Timoshenko USA 15,200
139 Thomas Puccio USA 15,100
140 Pawel Chmiel Poland 14,900
141 Nicholas Levi France 14,600
142 Jeff Kimber UK 14,500
143 Edward Holden UK 14,300
144 Denis Patout France 13,700
145 Georges Yazbeck Lebanon 13,300
146 Mark Crocker UK 13,200
147 Charles Chattha UK 13,000
148 Rumit Somaiya UK 12,400
149 Jonathan Aguiar USA 12,300
150 Jean Frohle France 12,200
151 Antto Lohvansuu Finland 11,500
152 Colin Leighton Unknown 11,300
153 Paul Parker UK 11,100
154 Joe Grech UK 10,800
155 Fredrick Primileius Unknown 9,400
156 Jannick Wrang Denmark 9,100
157 Ville Wahlbeck Finland 9,100
158 Victor Ramdin USA 7,900