Full Tilt Poker presenterer spilleskjema for FTOPS VIII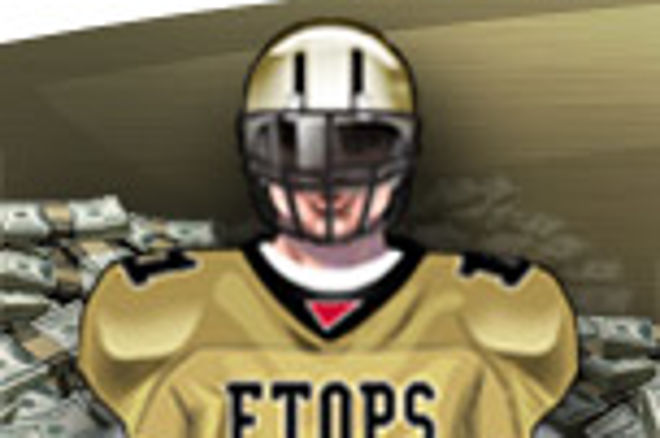 Over 10 millioner dollar kommer til å stå på spill under den kommende Full Tilt Online Poker Series (FTOPS VIII) som spilles mellom den 7. og den 28. mai. Totalt står 24 turneringer på listen og hele arrangementet avsluttes med Main Event, en turnering med 2 millioner dollar i garantisum. Vert for turneringen blir ingen mindre enn Jennifer Harman.
FTOPS VIII byr på spill innen alle tenkbare kategorier, fra NL Hold'em til HORSE, Razz og Omaha. På spilleskjemaet står det også en rekke "hemmelige" turneringer, hvis spilleform ennå ikke er avslørt.
De spillerne som kommer seg til finalebordet i Main Event får hver sin jakke som er produsert i begrenset utgave, samt en gullfarget FTOPS-trøye og en spillefigur med gullfarget trøye til sin spillekonto hos Full Tilt. I tillegg får de muligheten til å spille i sesong to av FTOPS Tournament of Champions. Denne turneringen er en freeroll for alle FTOPS-vinnere, der spillerne konkurrerer om blant annet plasser i WSOP Main Event. Denne turneringen spilles på søndag 24. mai. Den aller første utgaven av FTOPS ble spilt i august 06 og totalt ble det da spilt åtte turneringer med en samlet premiepott på en million dollar. Det drøyde dog ikke lenge før festivalen vokste, og sist den ble arrangert delte spillerne totalt 15 millioner dollar i premiepenger.
De som verken har råd til å kjøpe seg inn direkte i turneringene eller som ikke har lyst til å betale tusenvis av dollar, kan vinne seg plass gjennom Full Tilt Poker sine satellitter. FTOPS tilbyr også en "Bouncebackability"-freeroll for alle de spillerne som ble slått ut på boblen, eller med andre ord på plassen før pengeplasseringene. En plass i FTOPS IX Main Event kommer til å gis vinneren av denne turneringen.
For mer informasjon om turneringene kan du besøke fulltilt.com. Nedenfor er det komplette spilleskjemaet for FTOPS VIII: (Event, dato, buy in, spill, garantisum og vert).
#1 7. mai 21:00ET $200+$16 No Limit Hold'em 6-max $750K (TBA)
#2 8. mai 14:00ET $240+$16 Pot Limit Omaha-knockout $200K (Max Pescatori)
#3 8. mai 21:00ET TBA Mystery Tournament TBA (David Pham)
#4 9. mai 14:00ET $200+$16 Pot Limit Hold'em $200K (Marco Traniello)
#5 9. mai 21:00ET $200+$16 Stud/8 $100K (Jeff Madsen)
#6 10. mai 14:00ET $500+$35 Pot Limit Omaha 6-max $300K (Dario Alioto)
#7 10. mai 16:30ET $100+$9 No Limit Hold'em rebuy $500K (TBA)
#8 11. mai 14:00ET TBA Mystery Tournament TBA (Paul Wasicka)
#9 11. mai 18:00ET $300+$22 No Limit Hold'em $1.5M (TBA)
#10 12. mai 14:00ET $200+$16 Pot Limit Omaha/8 $200K (Mike Matusow)
#11 12. mai 21:00ET $1000+$60 No Limit Hold'em $1.5M (Nick Shulman)
#12 13. mai 14:00ET $200+$16 NLHE 1 rebuy/add-on $300K (Lee Watkinson)
#13 13. mai 21:00ET $500+$35 HORSE $300K (TBA)
#14 13. mai 21:00ET $200+$16 No Limit Hold'em turbo $200K (Amanda Baker)
#15 14. mai 14:00ET $200+$16 Half Pot Limit Hold'em/Omaha $150K (Eddy Scharf)
#16 14. mai 21:00ET $300+22 No Limit Hold'em 6-max rebuy $1M (TBA)
#17 15. mai 14:00ET TBA Mystery Tournament TBA (TBA)
#18 15. mai 21:00ET $300+$22 Razz $150K (Berry Johnston)
#19 16. mai 14:00ET $200+$16 No limit Hold'em $350K (Rob Hollink)
#20 16. mai 21:00ET $200+$16 Limit Hold'em 6-max $200K (Mike Schneider)
#21 17. mai 14:00ET $2,500+$120 No Limit Hold'em 2-day event $1.5M (TBA)
#22 17. mai 16:30ET $100+$9 Pot Limit Omaha rebuy $350K (Sigi Stockinger)
#23 18. mai 16:30ET $240+16 No Limit Hold'em 6-max knockout $500K (TBA)
Main Event 18. mai 18:00ET $500+$35 No Limit Hold'em $2M (Jennifer Harman)