Spilleskjema for WSOP 2008 er klart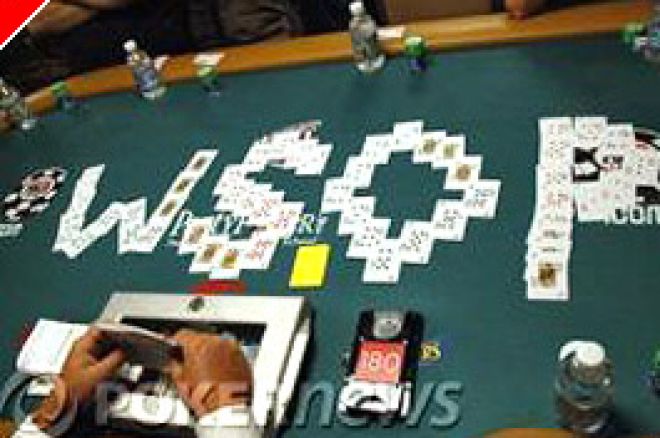 Harrah's Entertainment har sluppet det offisielle spilleskjemaet for det 39. World Series of Poker Presented by Milwaukee's Best Light, som igjen skal tilbake til Rio All-Suite Hotel & Casino i Las Vegas. WSOP 2008 løper fra 30. mai til 16. juli 2008, og som i fjor vil det være 55 forskjellige turneringer.
WSOP-aktivitetene starter den 28. mai, to dager før den første planlagte turneringen, da registreringer åpner, og cashgames og satellitter starter. Megasatellitter til $50k HORSE er også planlagt. Flere kosmetiske forandringer har kommet i år, blant annet med $10.000 World Championship Pot-limit Hold'em, en av de åtte $10k mesterskapsturneringene som er på listen.
$10k No-Limit Hold'em Main Event starter 3. juli med den første av fire åpningsdager. Det er planlagt en fridag den 7. juli som i stedet skal brukes til ansatte-turneringen, som tidligere har vært åpningsturneringen for WSOP. Andre tradisjonelle turneringer er kvinneturneringen og seniorturneringen.
Den viktige $50k HORSE World Championship, turnering #40, er planlagt til å vare i fem dager fra den 22 juni. WSOP har også økt til åtte $1.500 No-Limit Hold'em-turneringer spredt gjennom hele pokerfestivalen. Den første starter 31. mai og har to startdager da det forventes et stort antall spillere.
"Vi holder oss til 55 turneringer i år", sa Jeffrey Pollack, ansvarlig for WSOP. "Men, vi har endret litt for å holde det interessant for spillere og fans". Pollack nevnte også at blandingen av turneringer er laget for å tiltrekke seg en blanding av pokerspillere: "Både amatører og proffspillere vil ha nye muligheter til å spille om et WSOP-armbånd, og kan velge fra et videre spekter av spill og buy-ins enn noen sinne tilbydt i en pokerturnering eller WSOP."
Pollack kommenterte også at den beryktede pokerpaviljongen ikke skulle komme tilbake i 2008. "Pokerteltet er borte", sa han. "Vi hørte meldingen fra folk klart og tydelig i fjor, og det vil ikke bli brukt noen telt til turneringsspill under WSOP 2008."
WSOP 2008 har også i år 'Ante Up For Africa', turneringen til inntekt for nødhjelp i Darfur, som skal arrangeres den 2. juli og ha Annie Duke og Don Cheadle som vertskap.
Den sveitsiske klokkeprodusenten CORUM skal igjen lage de ettertraktede armbåndene man får i førstepremier under WSOP.
Pre-registrering for WSOP-turneringer er planlagt til februar, både på Rio og online på worldseriesofpoker.com.
Enda en liten sak som kan holde folk aktive er tillegget med en $340 No-limit Hold'em-turnering hver eneste kveld. Dette er ikke offisielle turneringer og starter klokken 19 fra den 29. mai til 15. juli da det har blitt plass i Amazon Room.
Det komplette spilleskjemaet:
Dato(Måned-Dag) - Tid - Buy-In

5-28 9 AM Registration Opens, Live Action & Satellites Begin
5-29 Registration, Live Action & Satellites
5-30 Noon (#1) *Pot-Limit Hold'em (3 days) $10,000
5-31 Noon (#2A) No-Limit Hold'em (4 days) Day 1A $1,500
6-1 Noon (#2B) No-Limit Hold'em Day 1B
6-2 Noon (#3) Pot-Limit Hold'em (3 days) $1,500
6-2 5 PM (#4) Mixed Hold'em (Limit/No-Limit, 3 days) $5,000
6-3 Noon (#5) No-Limit Hold'em w/Re-Buys (3 days) $1,000
6-3 5 PM (#6) Omaha Hi-Low Split-8 or Better (3 days) $1,500
6-4 Noon (#7) No-Limit Hold'em (3 days) $2,000
6-4 5 PM (#8) *Mixed Event (3 days) $10,000
(Limit Hold'em, Omaha Hi-Low Split-8 or Better, Seven Card Razz , Seven Card Stud, Seven Card Stud Hi-Low Split-8 or Better, No-Limit Holdem, Pot-Limit Omaha, 2-7 Triple Draw Lowball)
6-5 Noon (#9) No-Limit Hold'em / Six Handed (3 days) $1,500
6-5 5 PM (#10) Omaha/Seven Card Stud Hi-Low-8 or Better (3 days) $2,500
6-6 Noon (#11) No-Limit Hold'em Shootout (3 days) $5,000
6-6 5 PM (#12) Limit Hold'em (3 days) $1,500
6-7 Noon (#13) No-Limit Hold'em (3 days) $2,500
6-7 5 PM (#14) *Seven Card Stud (3 days) $10,000
6-8 Noon (#15) Ladies No-Limit Hold'em World Championship (3 days) $1,000
6-8 5 PM (#16) Omaha Hi-Low Split-8 or Better (3 days) $2,000
6-9 Noon (#17) No-Limit Hold'em Shootout (3 days) $1,500
6-9 5 PM (#18) No-Limit 2-7 Draw Lowball w/Re-Buys (3 days) $5,000
6-10 Noon (#19) Pot-Limit Omaha (3 days) $1,500
6-10 5 PM (#20) Limit Hold'em (3 days) $2,000
6-11 Noon (#21) No-Limit Hold'em (3 days) $5,000
6-11 5 PM (#22) H.O.R.S.E. (3 days) $3,000
6-12 Noon (#23) No-Limit Hold'em (3 days) $2,000
6-12 5 PM (#24) Pot-Limit Holdem/Omaha (3 days) $2,500
6-13 Noon (#25) *Heads Up No-Limit Hold'em (256-player max, 3 days) $10,000
6-13 5 PM (#26) Seven Card Razz (3 days) $1,500
6-14 Noon (#27) No-Limit Hold'em (3 days) $1,500
6-14 5PM (#28) Pot-Limit Omaha w/ Rebuys (3 days) $5,000
6-15 Noon (#29) No-Limit Hold'em (3 days) $3,000
6-15 5 PM (#30) *Limit Hold'em (3 days) $10,000
6-16 Noon (#31) No-Limit Hold'em / Six Handed (3 days) $2,500
6-17 Noon (#32) No-Limit Hold'em (3 days) $1,500
6-17 5 PM (#33) *Seven Card Stud Hi-Low Split-8 or Better (3 days) $5,000
6-18 Noon (#34) Pot-Limit Omaha W/Re-Buys (3 days) $1,500
6-18 5 PM (#35) Seven Card Stud (3 days) $1,500
6-19 Noon (#36) No-Limit Hold'em (3 days) $1,500
6-19 5 PM (#37) *Omaha Hi-Low Split-8 or Better (3 days) $10,000
6-20 Noon (#38) Pot-Limit Hold'em (3 days) $2,000
6-21 Noon (#39) No-Limit Hold'em (3 days) $1,500
6-22 Noon (#40) *H.O.R.S.E. (5 days) $50,000
6-22 5 PM (#41) Mixed Hold'em (limit/no-limit, 3 days) $1,500
6-23 Noon (#42) *Seniors No-Limit Hold'em (3 days) $1,000
6-24 Noon (#43) Pot-Limit Omaha Hi-low Split-8 or Better (3 days) $1,500
6-25 Noon (#44) No-Limit Hold'em w/Re-Buys (3 days) $1,000
6-25 5 PM (#45) 2-7 Triple Draw Lowball (Limit) (3 days) $2,500
6-26 Noon (#46) No-Limit Hold'em / Six Handed (3 days) $5,000
6-26 5 PM (#47) Seven Card Stud Hi-Low-8 or Better (3 days) $1,500
6-27 Noon (#48) No-Limit Hold'em (3 days) $2,000
6-28 Noon (#49) No-Limit Hold'em (3 days) $1,500
6-29 Noon (#50) *Pot Limit Omaha (3 days) $10,000
6-29 5 PM (#51) H.O.R.S.E. (3 days) $1,500
6-30 Noon (#52) No-Limit Hold'em (3 days) $1,500
7-1 Noon (#53) Limit Hold'em Shootout (2 days) $1,500
7-2 10 AM Media Event
7-2 Satellite Day
7-2 2 PM Ante Up For Africa Charity Event (1 day) $5,000
7-3 Noon (#54A) *No-Limit Hold'em (Main Event) Day 1A (2,500 players) $10,000
7-4 Noon (#54B) *No-Limit Hold'em (Main Event) Day 1B (2,500 players)
7-5 Noon (#54C) *No-Limit Hold'em (Main Event) Day 1C (2,500 players)
7-6 Noon (#54D) *No-Limit Hold'em (Main Event) Day 1D (2,500 players)
7-7 Main Event Off Day
7-7 Noon (#55) Casino Employees No-Limit Hold'em (2 days) $500
7-8 Noon (#54) *No-Limit Hold'em (Main Event) Day 2A
7-9 Noon *No-Limit Hold'em (Main Event) Day 2B
7-10 Noon *No-Limit Hold'em (Main Event) Day 3
7-11 Noon *No-Limit Hold'em (Main Event) Day 4
7-12 Noon *No-Limit Hold'em (Main Event) Day 5
7-13 Noon *No-Limit Hold'em (Main Event) Day 6
7-14 Noon *No-Limit Hold'em (Main Event) Day 7
7-15 Main Event Off Day
7-16 Noon *No-Limit Hold'em (Main Event) Final Table
* — indikerer en 'World Championship' event