Vinn Eksklusive James Bond 007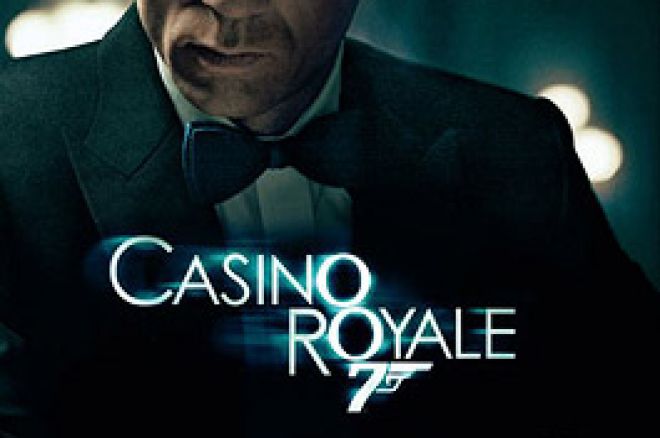 Vi publiserer det meste av denne artikkelen på engelsk for å la alt være så nær originalen som mulig. Sitatene rundt filmen og hovedpersonen lar seg ikke gjengi på godt norsk språk.
"The name is Bond….James Bond"
"Come in, Mr Bond. I have heard all about you……..!"
If Mr Bond is reading this, then indeed he will have found the right place. The only place in fact where you can play a single poker tournament and win a highly-prized Pair of Tickets for the London Premiere of Casino Royale, the latest James Bond 007 adventure to hit the silver screen. All you have to do is enter our Exclusive Poker News $10 Tournament - taking place at 8pm GMT on Sunday 29th October. The winner secures the Bond Tickets! In addition, all of the $10 entry fees are up for grabs in the prize pool!
This fantastic and glamourous showbusiness event is sure to be the hottest place in town! And you and your guest could arrive there in the company of the rich and famous as they stroll along the red carpet in all their finery!
The screening of this movie takes place just over one month from now, on Tuesday, 14th November 2006, in the heart of London, England. "Casino Royale" is the first Bond release to feature the highly-acclaimed Daniel Craig in the lead role, and the first to feature our hero playing a game of poker!
Now "Q" will demonstrate the latest amazing fact about this exclusive Poker News Tournament………
"Pay attention Bond!":
When you win, you can fly in from wherever you live in the world and your flights and accommodation will be paid for!
That's right! If you live 10,000 miles from the United Kingdom, it still will not cost you anything in travel and accommodation! This will ensure you arrive at the 007 Premiere neither shaken nor stirred!
How do you make sure you are in with a chance? That is easy. Remember the Top Secret Password: purplebond!
The Exclusive PokerNews 007 Tournament takes place at the tables of our good friends at Purple Lounge. If you are not already a member of this very popular and growing poker room, simply click on that name now to download and open an account there. If you are a member already, you may still qualify to play so long as you originally opened your account through the links at any one of the Poker News international websites.
For å finne denne turneringen må du logge på hos Purple Lounge, gå til turneringen under "multi table tournaments", registrer deg for denne meget spesielle turneringen som skal spilles 29. oktober ved å bruke passordet "purplebond" og du er klar til å spille.
For Your Eyes Only!
[I]Dagens tips: Live the high life when you download Purple Lounge Poker, the home of style, entertainment and exclusive tournaments to Bond Premieres!