Verdensmester i klespoker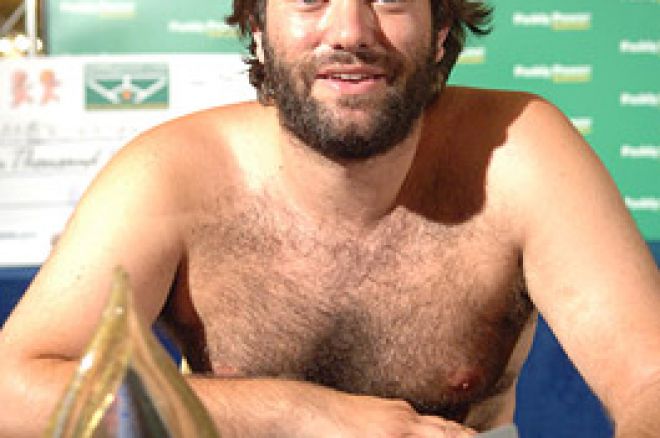 Verdens første klespokermester har blitt kåret i London. I en turnering som startet som en aprilspøk tidligere i år er nå John Young fra Slough i England kåret til verdensmester i klespoker.
John Young startet som 1 av totalt 195 spillere og satt til slutt ingen som den eneste med minimum av klær igjen på kroppen og kunne erklæres som mester av den første og største offisielle klespokerturneringen i verden
The Paddy Power Poker Verdensmesterskapet ble avholdt i London på café Royal med en premie på £10.000 til vinneren samt et et special trofe og en inngangsbilett til Paddy Power Irish Open pokerturnering. I tillegg ble det ga Paddy Power Poker £10.000 til veldedighet etter ønske fra vinneren – i dette tilfellet kreftforskning.
Totalt 195 spillere fra 12 land kom til London for å delta i denne offisielle Guinness verdensrekord forsøket med verdens største klespoker turnering. Etter 8 timers spill satt Mr. Young igjen som den historiske vinneren.
"It was quite hard to bluff in the buff but luckily I kept my pocket aces hidden away! This was easily the most fun I've had at a poker table.", said Young.
Arrangementet var også åpent for damer. Den siste damen som ble slått ut av turneringen var Laura Barnett fra Stirling i Skottland som fikk stående applaus når hun forlot turneringen.
Alle spillerne fikk ha 5 klesplagg på seg som kunne benyttes til - "rebuy" – å kjøpe nye sjetonger med etter som de tapte. Plaggene ble da fjernet ett etter ett etter hvert som de kjøpte nye sjetonger. Mange av de eventyrlystne deltakerne valgte å bytte inn klesplaggene sin fra bunnen og oppover slik at de eventuellt satt igjen i bare en baseballcaps!
En storfornøyd Paddy Power som stod for arrangementet kommenterte, "Sometimes I just love coming into work! The event was an amazing success considering it grew originally from an April Fools story. I've never seen so many people so eager to lose the shirt off their backs. Hopefully next year we'll break our own record."